Paying for Cures Toolkit Home
---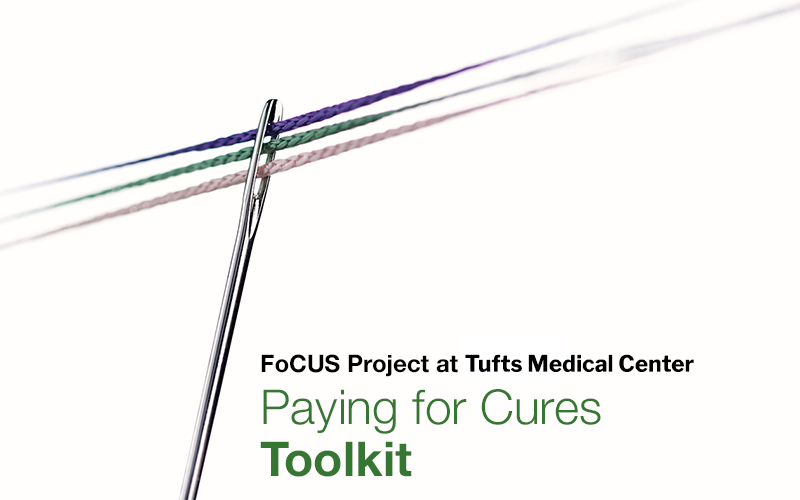 The FoCUS Project at Tufts Medical Center NEWDIGS has developed this Toolkit as a resource for practitioners facing the financial challenges of offering, choosing, reimbursing or supporting an advanced durable therapy. This toolkit enables you to:
Easily access the learnings of the FoCUS project through a simple, interactive tool
Understand the FoCUS precision financing solutions, which issues they address, for which stakeholders and their implementation challenges
Jump start your organization to evaluate your needs, to customize the precision financing options, to consider the implementation challenge and arrive at a preferred solution design for your situation based on the experiences of FoCUS pilots by providing a series of questions, frameworks and tools.
Every organization's and product's situation will differ. Therefore, while FoCUS offers this toolkit as a public service, every individual and organization using it remains responsible for reaching its own conclusions as to the best options for itself. We hope it will be useful in your planning and implementation.
Please note: Use of the Paying for Cures Toolkit website and its planning tools is subject to our Terms of Use
What is FoCUS?
The Financing and Reimbursement of Cures in the US (FoCUS) Project is a diverse, stakeholder consortium stewarded by the Tufts Medical Center's NEWDIGS Initiative. FoCUS' mission is to collaboratively address the need for new, innovative financing and reimbursement models for durable/potentially curative therapies that ensure patient access and sustainability for all stakeholders.
FoCUS does not address how to value these therapies or set their prices. Rather, FoCUS seeks to create precision financing solutions for durable/potentially curative therapies that are administered once and whose benefits accrue over years.
This multi-stakeholder effort gathers developers, providers, regulators, patient advocacy groups, payers from all segments of the US healthcare system, and academics. This research was wholly funded by the FoCUS Consortium, beginning in 2019 at the MIT Center for Biomedical Innovation and since August 2022 at Tufts Medical Center. It received no specific grant from any funding agency in the public, commercial, or not-for-profit sectors.
How to navigate the Toolkit
We have tried to make the Toolkit simple and interactive. Engagement is self-directed, allowing you to jump to particular sections and drill down into the detail as you like.
We have also provided three starter paths:
For analysts and those looking for general insight, the Overview section allows you to read a summary of the key points, and drill down further as you prefer
For practitioners who are engaged in more targeted assessments of a product or the durable, curative therapy pipeline, the Stakeholder Views section offers frameworks for working through the key questions in your particular context based on FoCUS learnings.
For those seeking simply options for particular product and payer types, a Solutions Prioritization Tool, found in the Individual Indication Worksheet, provides a quick list of prioritized solutions. Further drill down into each precision financing solution is possible after you narrow the options.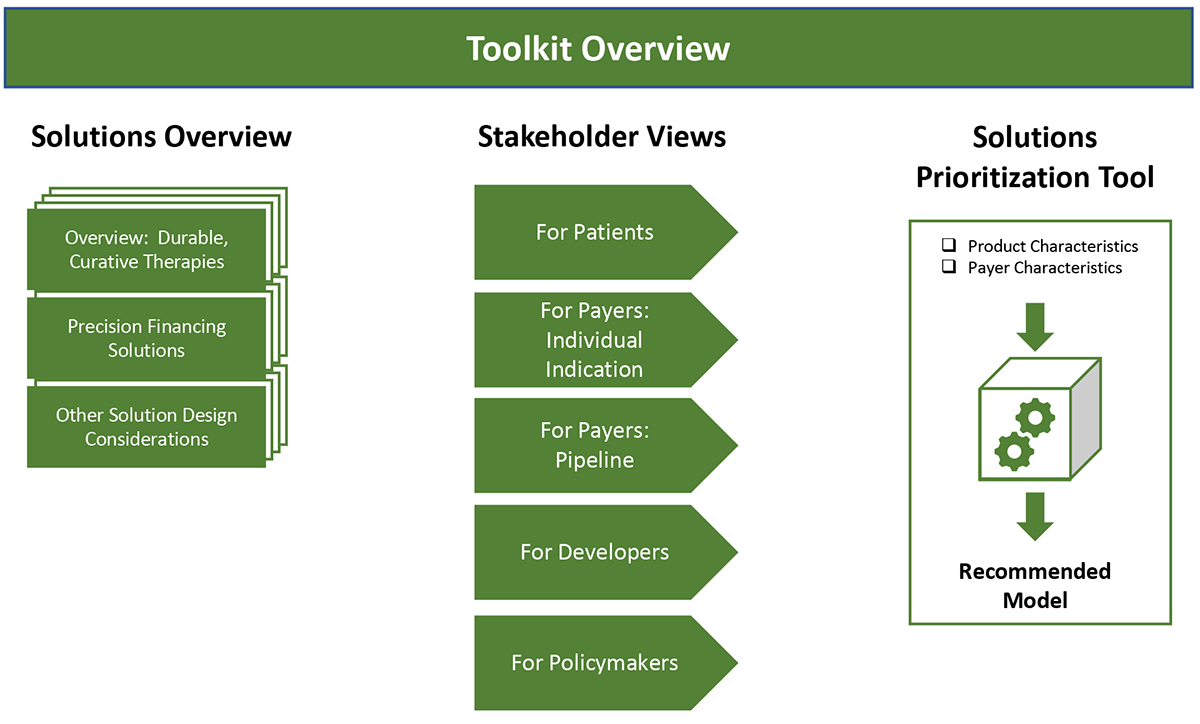 Three Paths for Toolkit Engagement
Further drill down into each precision financing solution is possible after you narrow the options.
Where to turn for more detail
Additional detail on many of the topics discussed in this Tookit may be found on the FoCUS Paying for Cures site. In addition, we have highlight a variety of third party sources that could be helpful in the Toolkit Bibliography. The toolkit also includes a glossary of terms.