Learning Ecosystems Accelerator for Patient–Centered, Sustainable Innovation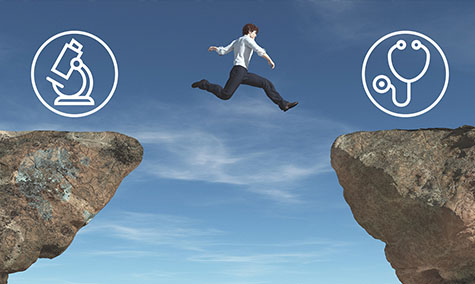 Learning Ecosystems Accelerator for Patient–Centered, Sustainable Innovation
About LEAPS
Our successful transition to value-driven healthcare, where biomedical innovation is both patient-centered and sustainable, depends largely upon our ability to generate better evidence, more efficiently, to enable better decision-making for all stakeholders across the value chain of research and development (R&D) and healthcare delivery (patients, manufacturers, regulators, payers, providers, and academic researchers).
The goal of the LEAPS Project is to design and pilot an innovation ecosystem that drives more value, faster, to patients, in ways that work for all stakeholders. Ultimately, patients will receive timely access to the most appropriate therapeutics for their needs, and stakeholders will have the evidence they need, when they need it, to improve their decisions related to the development, access, and use of therapeutics for the target diseases. Decision-making will be improved through the collaborative design of a distributed, purpose-driven evidence generation infrastructure – the LEAPS "Learning Engine"- that stakeholders both contribute to and benefit from, in order for it to be efficient, scalable, and sustainable over time.
LEAPS will drive impact in three critical domains: product innovation, regimen optimization, and disease modification/prevention. Its work streams will evolve over time but are guided initially by the following aims:
Enhance evidence planning and production across the drug development life span to fuel sustainable, patient-centered innovation
Apply systems engineering methods and tools to enable seamless, continuous learning and improvement across the innovation value chain (from R&D to care delivery) for a target disease
Assess potential applications of transformative technologies and methods, such as blockchain, federated learning, and artificial intelligence/machine learning
Join LEAPS
The LEAPS Project provides a unique opportunity for stakeholders to collaborate on the design of a next-generation innovation ecosystem. LEAPS will leverage proven NEWDIGS methods and tools in designing and catalyzing pilot activities.
Contact tuftsmcnewdigs@tuftsmedicine.org to learn more and get started
LEAPS Partners
LEAPS partners support the project with financial or in-kind donations. Current partners include:

Strategic Advisory Network
Anna D. Barker, PhD
Chief Strategy Officer, Lawrence J. Ellison Institute for Transformative Medicine, University of Southern California
Secretary Marylou Sudders, MS, Hon.DSc
Secretary of Health and Human Services, Commonwealth of Massachusetts
Alex 'Sandy' Pentland, PhD
Professor of Media Arts and Sciences, Toshiba Professor, MIT Media Lab; Director, MIT Media Lab Entrepreneurship Program
Peter Szolovits, PhD
Professor, Department of Electrical Engineering and Computer Science (EECS), Institute for Medical Engineering and Science (IMES), Massachusetts Institute of Technology
Richard Platt, MD, MSc
Executive Director, Harvard Pilgrim Health Care Institute; Department Chair, Department of Population Medicine, Harvard Medical School
Susan Windham-Bannister, PhD
President & CEO, Biomedical Growth Strategies LLC
Michael S. Sherman, MD, MBA, MS, CPE
Executive Vice President & Chief Medical Officer; Point32Health
Janet Woodcock, MD
Principal Deputy Commissioner, US Food and Drug Administration
---