On Friday, May 5th, NEWDIGS at Tufts Medical Center co-hosted a research symposium with fellow researchers and long-time collaborators from Utrecht University and Harvard Medical School (HMS). The event, titled Uncertainty Management in Drug Evaluations: From Evidence to Reimbursement & Clinical Use, brought together more than 30 researchers in person and virtually to explore and discuss research findings from Marcelien Callenbach and Milou Hogervorst, PhD candidates from Utrecht University.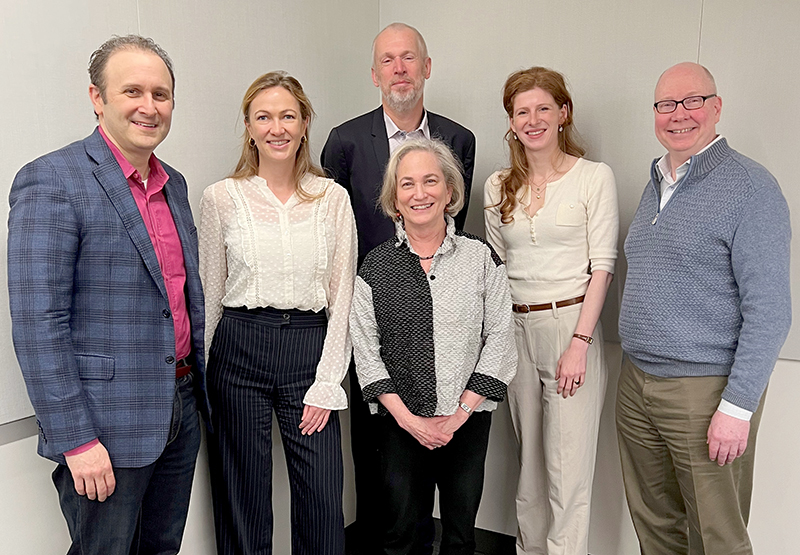 Ms. Callenbach and Ms. Hogervorst have been engaged since January 2023 as visiting scholars focused on pharmaceutical regulation and health technology assessment (HTA) issues in the EU and US, working with NEWDIGS at Tufts Medical Center and the Program on Regulation, Therapeutics, and Law (PORTAL) at HMS. Dr. Wim Goettsch, Professor of HTA of Pharmaceuticals at Utrecht University and Special Advisor, HTA National Health Care Institute, The Netherlands, joined the symposium as the special guest presenter in his role as academic advisor to both visiting researchers.
Ms. Callenbach's presentation focused on her research to identify conditions under which an outcome-based agreement reimbursement model for cell and gene therapies could create a win-win-win situation for healthcare payers, developers, and patients. Preliminary conclusions from her research suggest that outcomes-based MEAs would likely benefit a subset of emerging products while also enhancing patient access, and that the perceived potential impact of these agreements differs by product type and by HTA organization.
Ms. Hogervorst's research presentation focused on the evolution of the patient population definition for oncology drugs throughout the drug lifecycle. She discussed HTA alignment challenges in the EU and the US through a comparison of ICER and NICE approaches. Her presentation concluded with some proposed solutions to address these challenges, including the need for consistent reporting to improve clarity, and support evidence generation, as well as the development of MEAs.
Dr. Goettsch highlighted several themes in his evolving vision for HTA, including balancing innovation with sustainability of the healthcare system; deriving evidence from clinical practice to support appropriate care; impact of (international) EU HTA regulations on national practice; and better alignment of stakeholders. A key message in Dr. Goettsch's presentation was the importance of early dialogue for HTAs and regulators to align the vision of drug lifecycle management across Europe and the opportunity for adapting this approach to the US.
The event closed with an engaging discussion between attendees and presenters, facilitated by Mark Trusheim, NEWDIGS Strategic Director, and Dr. Aaron Kesselheim, Director of PORTAL. The group explored potential topics for future research, including more opportunities for aligning HTA in the EU and US, pursuing a lifecycle-based approach to HTA assessments, and leveraging global learnings more broadly. The discussion also touched on priority-setting based on society's needs as well as the importance of incentivizing both novel and incremental innovation in healthcare to benefit society as a whole.