Provider financial considerations
The availability of cell and gene therapies (CGTs) may raise both temporary and more unique financial challenges for providers that payers will need to consider in finalizing a coverage strategy.
Temporary barriers could include:
Delay in the availability of billing codes: The amount of time it takes for new billing codes to be provided and how providers will be able to seek reimbursement during that period.
Inadequate DRG rates: Existing inpatient DRGs will not include the costs of CGTs. This may be partially addressed by Medicare New Technology Add-on Payments, but these payments often significantly lag the therapy launch, are not approved, and only provide partial coverage.
Unavailable or inadequate outpatient reimbursement: A therapy administered in an outpatient setting may need to receive a distinct and separate code, e.g., a 'J code', to enable reimbursement filing. Code issuance is often delayed, with commensurate patient access delays and significant financial risk to providers during the interim. Once issued, adequate federal and private reimbursement levels are not assured. Providers may find existing infusion, office visit, and other follow-up reimbursement codes insufficient for their services. We assume these would be adjusted over time.
More broadly, a provider may also face product inventory risk: Under a buy-and-bill model, providers acquire the product, administer it, and then receive payer reimbursement later with a markup. During that time, the provider bears stocking and inventory carrying costs, as well as the risk of wastage, contamination, and expiration. These costs and risks increase with a therapy's cost and any payment timing delays. Given these costs and risks, providers are unlikely to stock these treatments, but rather would arrange just-in-time delivery. Additional details on buy-and-bill considerations may be found here.
CGTs may also result in financial risks due to changing provider service patterns. For example, gene therapy may replace existing treatments. If the administration of gene therapy is performed by a different provider or if the provider was dependent on income from administering existing treatments, the advent of gene therapies may require reevaluation of the services offered by the provider, alternative approaches to achieve greater efficiency in service delivery, and/or renegotiation of payer reimbursement levels for remaining services. This type of financial risk is particularly a concern when providers may be informally cross-subsidizing one service with another's income. The Hemophilia Diagnostic and Treatment Center business model is a concrete example of how gene therapy might change a provider's income and services.
Financial Sustainability—Hemophilia Treatment Centers
In 1973, the National Hemophilia Foundation launched a campaign to establish a nationwide network of hemophilia diagnostic and treatment centers (HTCs). Their goal was to provide a range of comprehensive services for patients and families within one treatment facility. The federal government recognized the work of the HTCs and established a grant program to fund important services typically not covered by insurance.
HTCs provide clotting factor and injection supplies to patients as necessary. Most HTCs are located in or adjacent to academic medical centers or children's hospitals and participate in the 340B Drug Pricing Program under their federal designation as a comprehensive HTC. The 340B Drug Pricing Program is a US federal government program created in 1992 that requires drug manufacturers to provide outpatient drugs to eligible health care organizations and covered entities at significantly reduced prices. Providers then bill payers at higher prices, creating a financial margin.
The majority of a HTC's income comes from providing clotting factor and injection supplies to patients. The HTC utilizes this income to support the multidisciplinary integrated care provided to the hemophilia population.
In 2014, the National Hemophilia Program Coordinating Center conducted a survey of HTCs that have 340B pharmacy programs. of their non-physician salary costs with 340B program income. 90% of the surveyed HTCs utilize 340B program income to support social workers. Home and school visits by these HTC teams are almost entirely supported by 340B program income.
In addition (see table below), the majority of centers surveyed also utilize 340B program income to provide over 90% of their funding for phone triage, care coordination, case management, and patient education. Most of these services are not typically reimbursed by insurance, making the 340B program income vital to the HTCs.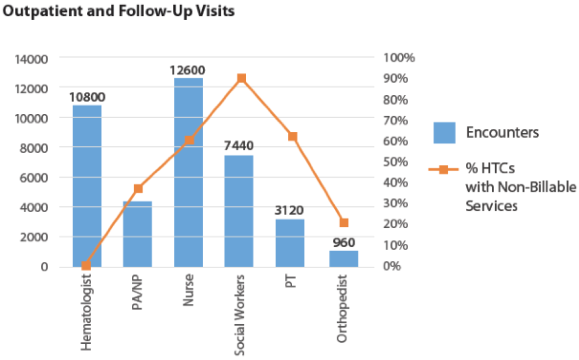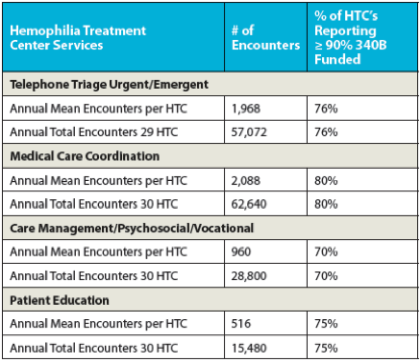 ---