Introduction
Transformative gene and cell therapies offer great hope for patients and society. Short, even single dose, treatment regimens are expected to yield lasting health benefits. However, there is uncertainty about the volume and nature of therapies that are coming as well as concern that large, single payments for a wave of therapies will challenge the current reimbursement system, more oriented towards paying for chronic treatment over time.
This section is intended to help payers and/or healthcare systems develop an overall strategy for enabling access to transformative cell and gene therapies while addressing the potential challenges related to durability and sustainable financing and affordability. It provides a concise resource for payer organizations wishing to think through the implications of the pipeline of durable therapies for their businesses. Employees and members. It offers potential precision financing solutions, processes and capabilities that can be put in place to enable patient access to these therapies.
We have structured this resource around four key questions. The Pipeline worksheet is available to assist you in assessing the implications for your organization as you read through this resource and interact with the tools provided. The research brief, "How can self-insured employers prepare for the portfolio impact of high-cost gene therapies coming to market?" further illustrates the concepts presented below for payer consideration.
Download the Pipeline Worksheet (xlsx)
Please note
Use of the Paying for Cures Toolkit website and its planning tools is subject to our Terms of Use.


Figure: Key Questions—Payer Pipeline Assessment
Pipeline projections
Expected availability to 2030: durable, curative cell and gene therapies
There are currently 11 (eleven) gene and cell therapy products available in the US approved for treatment of 14 (fourteen) indications.
Therapy Name

Drug Class

Indication

Abecma
(Idecabtagel vicleucel)

Car-T cell therapy

Relapsed or refractory multiple myeloma

Breyanzi
(lisocabtagene maraleucel)

Car-T cell therapy

Relapsed or refractory large B-cell lymphoma

Carvykti
(ciltacabtagene autoleucel)

Car-T cell therapy

Relapsed or refractory multiple myeloma

Hemgenix
(etranacogene dezaparvovec-drlb)

Gene therapy

Hemophilia B

Kymriah
(tisagenlecleucel)

Car-T cell therapy

Acute lymphoblastic leukemia

Large B-cell lymphoma

Luxturna
(voretigene neparvovec-rzyl)

Gene therapy

Leber's congenital amaurosis

Skysona
(elivaldogene autotemcel)

Gene therapy

Cerebral adrenoleukodystrophy (CALD)

Tecartus
(brexucabtagene autoleucel)

Car-T cell therapy

Relapsed or refractory mantle cell lymphoma

Adult B-cell lymphoma

Yescarta
(axicabtagene ciloleucel)

Car-T cell therapy

Large B-cell lymphoma

Follicular lymphoma

Zolgensma
(Onasemnogene abeparvoved-xiol)

Gene therapy

Spinal Muscular Atrophy Type 1

Zynteglo
(betibeglogene autotemcel)

Gene therapy

beta-thalassemia
NEWDIGS FoCUS has conducted a unique, detailed, indication-by-indication analysis to estimate the expected volume of durable cell and gene therapies likely to be available on the US market in the coming years. The FoCUS Pipeline Analysis and Modeling (PAM) initiative has been maintained in order to inform stakeholder decision making for sustainable, appropriate patient access to durable, curative cell and gene therapies. With PAM, FoCUS assesses and revises over time detailed estimates of clinical trial progression rates, disease incidence and prevalence, and estimated patient uptake for each product-indication (defined as the disease indication matched to the product and its target gene or antigen; a single product could have multiple product-indications). Updated results are published periodically. The most recent publication may be found here. A synthesis of the approach to develop all estimates may be found here.
At year end 2020, there were approximately 780 active, durable, cell and gene therapies in development. China based clinical trials registered in the US (382) were excluded from the analysis as commercialization in the US was judged to be unlikely.
Figure 1: Pipeline of active programs in development for durable cell and gene therapies for the US market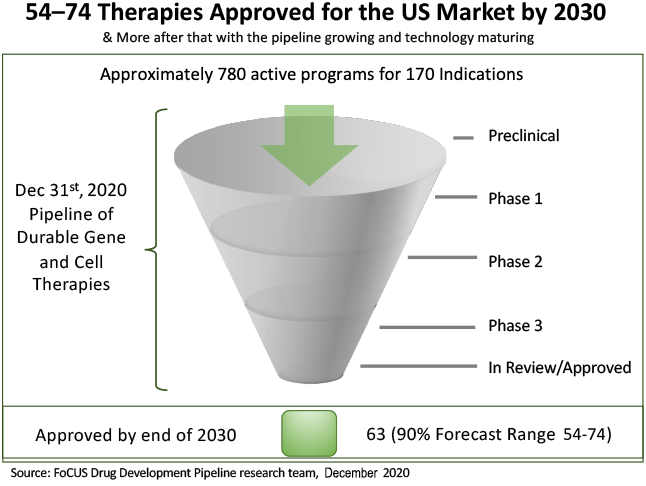 Approximately 57% of product candidates in development are for oncology patients, 36% are for orphan, non-oncology indications and 7% are to treat larger therapeutic areas such as cardiovascular conditions.
The current pipeline of US-targeted therapies is expected to result in 60+ product-indication approvals (estimated range 54-74) by 2030; with the existing 10 product indications and an average of five new approvals annually for the next five years, an estimated 35 conditions will be treated with cell and gene therapies by 2026.
Figure 2: Projection of product launches from pipeline analysis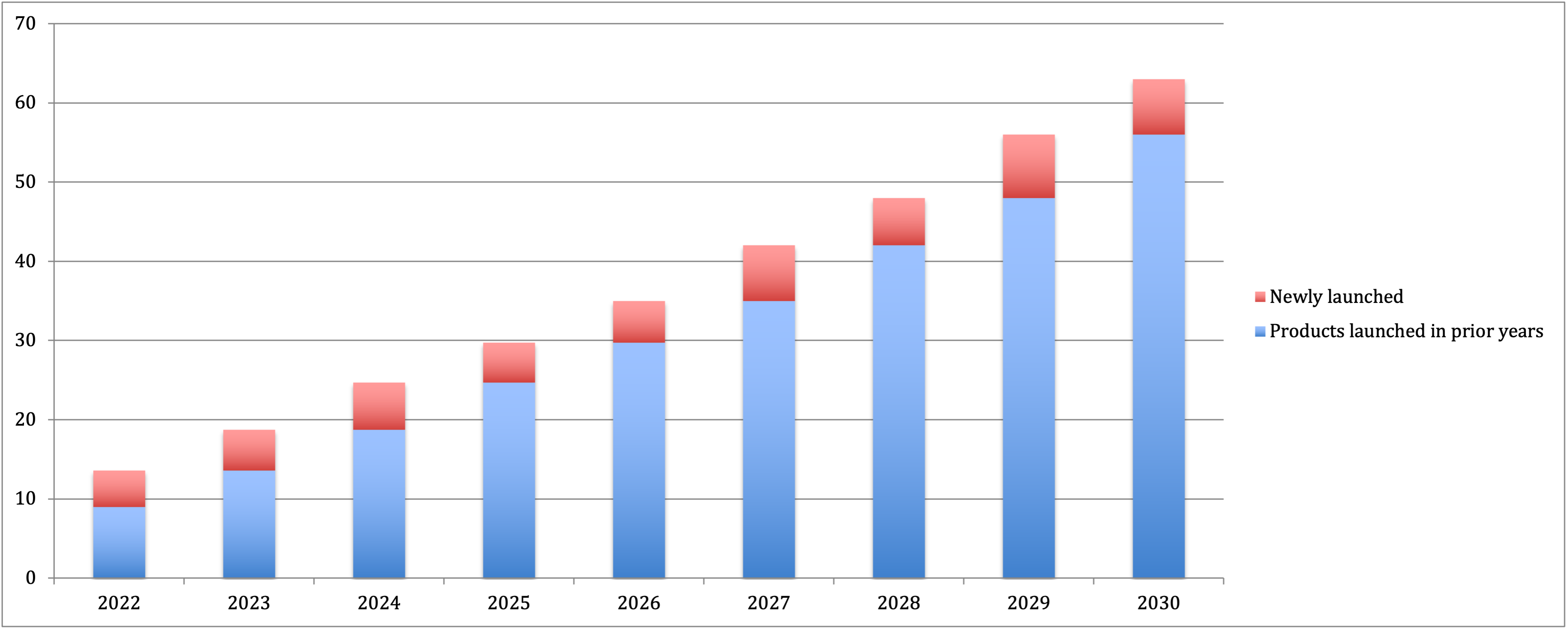 This estimate reflects the current pipeline. The pipeline will however continue to be replenished and added to with new innovations. Thus, towards the back end of this timeframe we may see additional products launch beyond those reflected here.
Expected patient volume
Linked with the product pipeline is the estimate of the numbers of patients treated each year. Data on treatment-eligible incident and prevalent patient populations were manually determined using a range of sources that varied by disease. The outcome of this analysis is presented in Figure 3.
Figure 3: Total treated patients per year for all durable gene and cell therapies 
Source: FoCUS Drug Development Pipeline Research Team, December 2020. Chart from Drug Discovery Today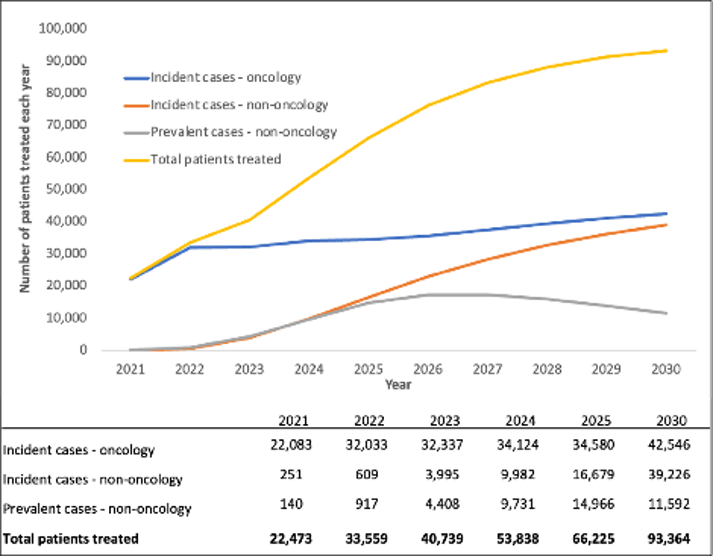 The incident population refers to the number of new cases of a characteristic or condition that develop in a specified time period. The prevalent population refers to those who have a specific characteristic or condition in a given time period and are living with the disease or condition such as hemophilia or sickle cell disease. Figure 3 shows treatment of the prevalent population peaks in 2026 and 2027 and then declines as numbers of untreated patients declines. Greater detail may be found in the publication Durable cell and gene therapy potential patient and financial impact: US projections of product approvals, patients treated, and product revenues
Understanding treated patient population sizes requires knowing how much of the eligible incident and prevalent populations will be actually be treated. The key uncertainty within the FoCUS model, lies in the adoption rates and adoption speed for these new-to-world therapies. Treatment and reimbursement are driven by two parameters:
Peak penetration: What percentage of the clinically-eligible population will be treated
Time to peak: How long to achieve the peak (from 1 to 7 years)
Broadly, we have assumed that conditions with limited treatment alternative and more severe (fatal) consequences will see greater and faster adoption. FoCUS will continue to explore the influence of disease severity as we have greater real-world data on patient and physician treatment choices. Based on estimated prevalence and incidence and adoption rate assumptions, by 2030 the treatable patient population is anticipated to be 90,000+ patients per year.
While clinical trial outcomes and regulatory approvals are never guaranteed, by 2026 we expect the following types of products may be available to patients:
Oncology
Additional therapies for B-cell leukemia and lymphoma
Rare Disease treatments
Hematological conditions
Hemophilia A & B
Sickle Cell anemia
β-thalassemia
Additional treatments for ophthalmological conditions
Neurological conditions
Higher prevalence disease treatments
Age related wet macular degeneration
Diabetic peripheral neuropathy
Osteoarthritis (Knee)
What is the estimated patient volume and cost over time?
NEWDIGS FoCUS undertook a pipeline analysis to determine the scale of the financing challenge of curative therapies in the United States. While each payer will need develop its own assessment, the team has made available its estimates of the total expected financial impact of the (December 2020 pipeline of durable cell and gene therapies). These estimates are based on a number of assumptions, which are described here.
The worksheet includes a Pipeline Estimator Tool that estimates the direct cost of durable therapies to your plan based on your plan size and type. The pipeline will impact payer types differently. For example, Medicare plans will likely see a larger share of the oncology cell therapies; Medicaid plans will see a larger share of treatments to address genetic conditions that manifest in childhood. You may select a pipeline view of the General Population, Medicaid, Medicare, or not Medicaid or Medicare. The General Population view presents pipeline estimates for the entire US 2020 market census of 331,500,000. Other views present population size and disease incidence and prevalence within that segment. Note that not Medicaid or Medicare represents all lives not covered by Medicaid or Medicare including commercial insurance, self-insured employer plans, the uninsured, etc.
Pipeline estimates are presented as three values – Mean, 95% and 5% values determined in the Pipeline Analysis Modeling. Based on your plan size, the Pipeline Estimator Tool also calculates your per-member-per-month (PMPM) spend associated with estimated durable cell and gene therapy expenditure with the same range of results. Users may wish to assess their financial risks based on all three possible outcomes.
What other factors to consider?
As noted earlier, the numbers discussed above and in the tools are estimates and solely focused on therapeutic purchase costs. They look at durable gene and cell therapies as an incremental category. They do not take into account any additional treatment costs beyond the direct costs of the durable therapy portfolio or any cost-offsets from existing therapies that might be displaced by these treatments or downstream medical, pharmaceutical or other benefits or cost savings that might be achieved.
Moreover, this is a new area of science, few products are on the market and those that are, are relatively newly available. There is little experience with the extent and speed of patient and physician adoption of these products. Each medicine will need to be evaluated on its own merits.
Therefore, the estimates should be used to inform strategic assessments, but with appropriate appreciation for the challenges of estimating a new-to-world class of therapies.  We advise each organization to conduct its own more detailed operational analysis before making final decisions.
Ability to address risks through current approaches
Durable, potentially curative therapies create three potential financing challenges.
Payment timing: Therapies can involve substantial upfront payment for multiple years of therapeutic benefit.
Actuarial risk: The number of eligible patients in a payer's population may be uncertain and could vary significantly from period to period.
Therapeutic performance risk: Real world efficacy and durability are uncertain at the time of initial regulatory approval and market launch.
The Pipeline Estimator Tool allows you to understand how the emerging portfolio of cell and gene therapies could affect your plan on these dimensions.
Actuarial Risk: Can your organization absorb the financial impact in total, given your risk tolerance and current risk management approaches?
The Pipeline Estimator Tool highlights an estimated per-member-per-month (PMPM) therapy cost for your plan at the model mean and the 5 and 95 percentiles. A key question is whether your plan is likely to be able to manage the actuarial uncertainty associated with the potential number of patients and the cost of the medicine in the timeframe they are expected.  Such actuarial uncertainty will be larger for health plans with smaller books of business.
While the largest payers may be able to handle the risk internally, additional risk management solutions could help other payers mitigate their actuarial risk, reducing variability by increasing the effective number of covered lives across which risk is spread. Payers will want to consider whether their current actuarial risk management and risk pooling strategies will meet their future needs. Commercial insurers and self-insured employers who pool through total cost reinsurance will want to reassess their current level of risk coverage and ensure that their reinsurance carriers do not exclude such transformational treatments or the patients that could benefit from them from their offerings.
Payment Timing: Can your organization absorb the financial impact in the timeframe it is expected?
The Pipeline Estimator Tool allows you to estimate the expected per member per month (PMPM) impact on your plan for the medicine at the mean and 5 and 95 percentiles. Based on this, you can assess whether your plan is likely to be able to manage the financial impact of the medicine in the timeframe it is expected.
Note, that these estimates do not take into account any cost-offsets from existing therapies that might be displaced by these treatments or subsequent medical, pharmaceutical or other benefits or cost savings that might be achieved. However, as you further analyze these questions internally, this would be something to consider.
The Pipeline Solution Prioritization Tool will ask you to evaluate:
Given the costs/PMPM, would the financial impact be higher than your organization can absorb in any year?
Would any short-term surge effect due to treating a significant prevalent disease population be a challenge for your organization?
Therapeutic Performance Risk: Does your organization wish to include performance requirements for durable gene and cell therapies?
There are two reasons why organizations may wish to establish performance guarantees for therapies. First, there may be uncertainty as to the expected initial performance of a new treatment and second, further out concern of the durability of therapy performance. A performance guarantee can help bridge this gap.
The final section in the Pipeline Estimator tool is a compilation of considerations to strategically plan for the pipeline of gene and cell therapies.
To assess actuarial risk, the Pipeline Tool will ask you to evaluate:
Does your organization expect to have significant actuarial risk that will not be managed through your existing mechanisms (risk premium, stop loss, reinsurance, risk pooling, etc.)?
For payment timing concerns, The Pipeline Tool will ask you to evaluate:
Given the costs/PMPM, would the financial impact be higher than your organization can absorb in any year?
Would any short-term surge effect due to treating a significant prevalent disease population be a challenge for your organization?
For therapeutic performance risk the Pipeline Solution Prioritization Tool will ask you to evaluate:
Will performance guarantees be desired to provide/secure access for certain therapies?
Preferred precision financing solution(s)
The Pipeline Tool provides a guide to strategic considerations as the user assesses the financial impact of the pipeline through 2030 using estimated therapy costs. Unlike evaluation for a specific therapy, strategic recommendations on specific precision financing tools cannot be made.
Different precision financing tools are better suited for conditions based upon known or unknown treatment eligible lives and therefore can be suggested as potential financing solutions. The projection of total pipeline costs however, includes products that have a sudden onset as well as those that have been living with the condition or disease. Therefore, the Pipeline Tool provides a Guide to Strategic Considerations.
FoCUS stakeholders have identified various finance tools but no one addresses all risks as depicted in Figure 4. The Pipeline guide recommends answering questions such as:
• What gap exists for the organization able to address the actuarial, payment and performance risks?
• What precision financing solution(s) can address that gap?
• What resources are needed to implement and use that financial solution?
Figure 4: FoCUS precision financing solutions and their ability to address key risks
(Blue circles represent the proportion of the associated challenge addressed)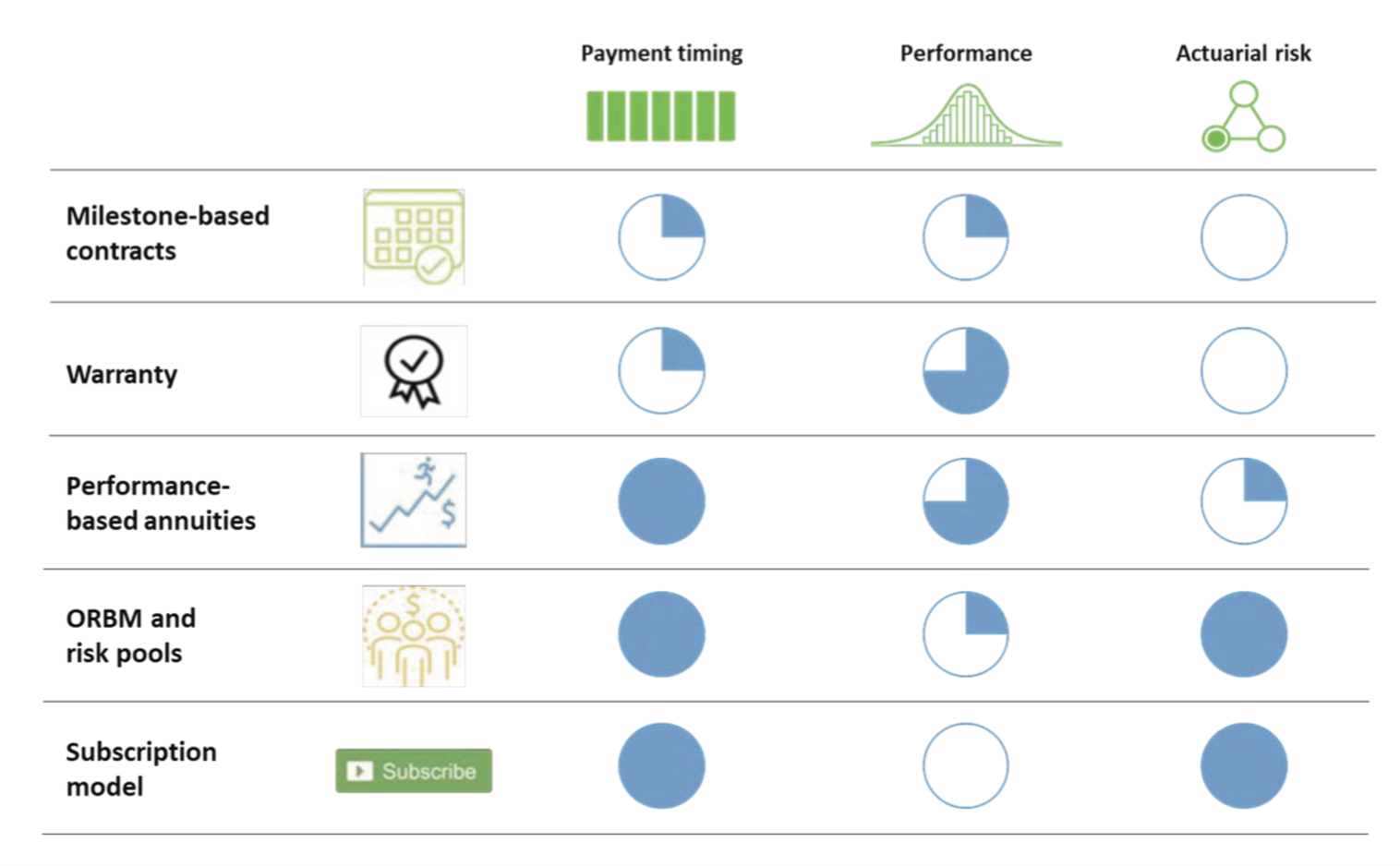 Finally, your organization will want to consider whether it has the capabilities to manage these therapies in house. While initial, small-volume therapies may be addressed as one-offs, as the number of therapies grows, organizations may wish to consider external assistance.
Other solution design elements
The Pipeline Tool Guide to Strategic considerations encourages consideration of other design elements. Identifying these in advance and laying out some general internal expectations and policy principles may help enable operational preparation and resource availability.
Below are operational elements FoCUS participants have identified for consideration.
Element

Sub-elements

Performance Contract Design

How will we track outcomes over time?
How will we handle patient mobility?

Delivery Networks and Policies

Will we require provider certification?
Will COEs be used or needed?
Will out of state networks be needed?

Provider Reimbursement

Do we need to adapt any provider reimbursement elements?
Will we need to clarify reimbursement coding?
How do we want to handle these therapies as part of any buy-and-bill reimbursement we have?

Benefit Design and Coding

Do we need to adapt our benefit design?
How we handle patient copays and other patient financial implications?
The buttons below will take you to additional detail on the topics.
Outcomes tracking over time Patient mobility Provider accreditation / Centers of Excellence Provider financial considerations Out-of-state networks Buy and bill State plan amendments Patient financial implications
Executional Risk: Does our organization need executional support?
It may not be efficient for all insurers to build capabilities internally to serve these patients or establish their own contracts with treating providers and manufacturers. Market solutions are emerging to efficiently address the required capabilities. A white paper based on a survey of currently known market solution providers was published in June 2021 and can be found here.
Click this link for access to a list of questions developed to help a payer evaluate gene and cell therapy products and the organizations administering them.