Introduction
The FoCUS Project seeks to address the financial challenges of durable and potentially curative therapies with new and innovative models of financing and reimbursement. Patient engagement from ideation all the way through to post-market utilization and evaluation is critical to the successful adoption of any new medical technology. Durable cell and gene therapies however come with additional considerations, expanding the need for patient engagement for financial model development.
Organizations such as the American Society of Gene and Cell Therapy have created patient education programs for cell and gene therapies, addressing the science, technology, and potential clinical benefits. The FoCUS Project has developed this Toolkit as a resource for understanding the financial challenges of delivering and financing of an advanced durable therapy. This section is intended to provide patients, and patient advocacy organizations with insight into the financing challenges, potential innovative solutions and the potential impacts on patients who seek treatment with a durable cell and gene therapy.
What are durable cell and gene therapies?
The development of transformative cell- and gene-based technologies has raised the possibility that patients with rare diseases could live without the need for ongoing treatments of the burden of daily disease management after a single course of treatment. Known as durable cell and gene therapy, this new category of medical technology will vary in the specific benefits offered. In some cases, cell and gene therapies can improve patient survival rates and/or survival times. In others they can reduce morbidity, offering individuals improved health and well-being during the course of their condition. Some gene therapies stop disease progression, preventing patients from becoming sicker. Others offer quality of life improvements, including improved functioning, less pain, and a greater sense of well-being.
Many of the conditions addressed by cell and gene therapy are rare and may have limited alternative treatments - a situation that has brought together communities of patients and their families for support and advocacy. Resources providing an overview of the science and potential value of gene therapy may be found here, We thank the National Hemophilia Foundation and our other patient organizations participants for their contributions to this list.
Durable cell and gene therapy products are different from traditional treatments in two ways: First patients may benefit for a long period of time after the administration of therapy. Chronic treatment reimbursement traditionally happens in parallel with the delivery of the treatment with payment occurring after each treatment. Durable therapies are paid for up-front, but the benefits are delivered over time. In many ways, the use of durable therapies is a shift from a model of 'renting' treatments to one of 'buying' long-term health improvements as the following graphic illustrates.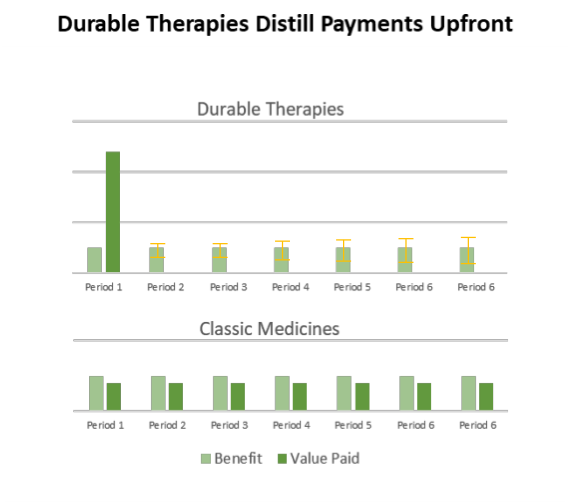 Second, along with this misalignment of payment and benefits, there is uncertainty about how long the benefits of treatment will last. In most cases, developers and researchers hope the effect will last "forever." As these treatments evolve, it will be critical to collect and examine the "real world evidence" to better understand the treatment's efficacy and durability. Patients will play an important role in this by providing their feedback.
Expected pipeline: durable therapies
Key takeaways
Robust pipeline: ~780 active, durable, cell and gene therapies in development for the US market
Expect 60+ product-indication launches in US by 2030, assuming clinical trial success
Key uncertainty in estimates: adoption rates
Toolkit resources can help estimate potential patient numbers for different indications treatable by gene and cell therapies in development
There are currently 11 (eleven) gene and cell therapy products available in the US approved for treatment of 14 (fourteen) indications.
Therapy Name

Drug Class

Indication

Abecma
(Idecabtagel vicleucel)

Car-T cell therapy

Relapsed or refractory multiple myeloma

Breyanzi
(lisocabtagene maraleucel)

Car-T cell therapy

Relapsed or refractory large B-cell lymphoma

Carvykti
(ciltacabtagene autoleucel)

Car-T cell therapy

Relapsed or refractory multiple myeloma

Hemgenix
(etranacogene dezaparvovec-drlb)

Gene therapy

Hemophilia B

Kymriah
(tisagenlecleucel)

Car-T cell therapy

Acute lymphoblastic leukemia

Large B-cell lymphoma

Luxturna
(voretigene neparvovec-rzyl)

Gene therapy

Leber's congenital amaurosis

Skysona
(elivaldogene autotemcel)

Gene therapy

Cerebral adrenoleukodystrophy (CALD)

Tecartus
(brexucabtagene autoleucel)

Car-T cell therapy

Relapsed or refractory mantle cell lymphoma

Adult B-cell lymphoma

Yescarta
(axicabtagene ciloleucel)

Car-T cell therapy

Large B-cell lymphoma

Follicular lymphoma

Zolgensma
(Onasemnogene abeparvoved-xiol)

Gene therapy

Spinal Muscular Atrophy Type 1

Zynteglo
(betibeglogene autotemcel)

Gene therapy

beta-thalassemia
NEWDIGS FoCUS has conducted a unique, condition-by-condition analysis to estimate the expected number of durable cell and gene therapies likely to be available on the US in the coming years. We completed an assessment with detailed estimates of clinical trial progression rates, disease incidence and prevalence, and estimated patient uptake for each product indication. Details regarding this analysis can be found here. Results are updated periodically with December 2020 being the current information in use.
At year-end 2020, there were 780+ active, durable cell and gene therapies in development. Slightly over 300 of these are product trials in China by China-based developers. Excluding these, because we do not think these products will become available in the US, we estimate roughly 780 active therapies in development for the US.
Figure 1: Pipeline of active programs in development for durable cell and gene therapies for the US market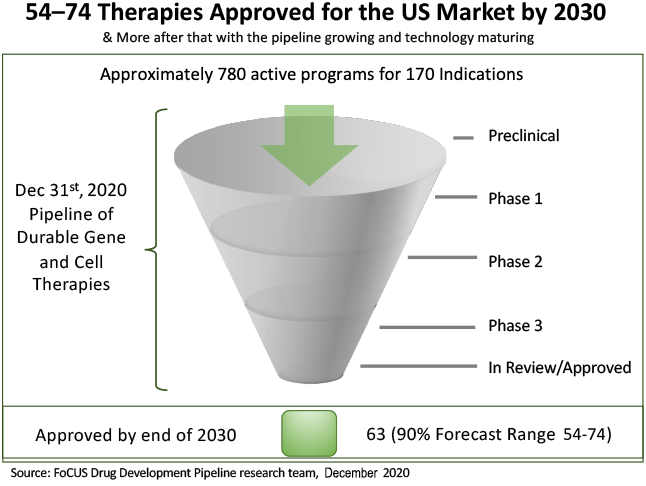 NEWDIIGS FoCUS has developed detailed estimates of clinical trial progression rates, disease incidence and prevalence and estimated patient uptake for each product indication. Approximately 57% of treatments being developed today are for oncology (cancer) patients, 36% are for patients with rare, non-oncology conditions and 7% are to treat patients with conditions such as cardiovascular disease, which will have larger potential patient populations.
Based on those clinical trials, the current pipeline of US-targeted therapies is expected to result in 60+ product-indication approvals (estimated range 54-74) by 2030; the model's projected rate of approvals estimates there will be 35 product-indications within the next five years (2026), with an average of five new approvals annually There is a range because the statistical simulation provides a range of estimates for how many medicines will be proven to be effective in the clinical trial process.
Figure 2: Projection of product launches from pipeline analysis
Source: FoCUS Drug Development Pipeline Research Team, December 2020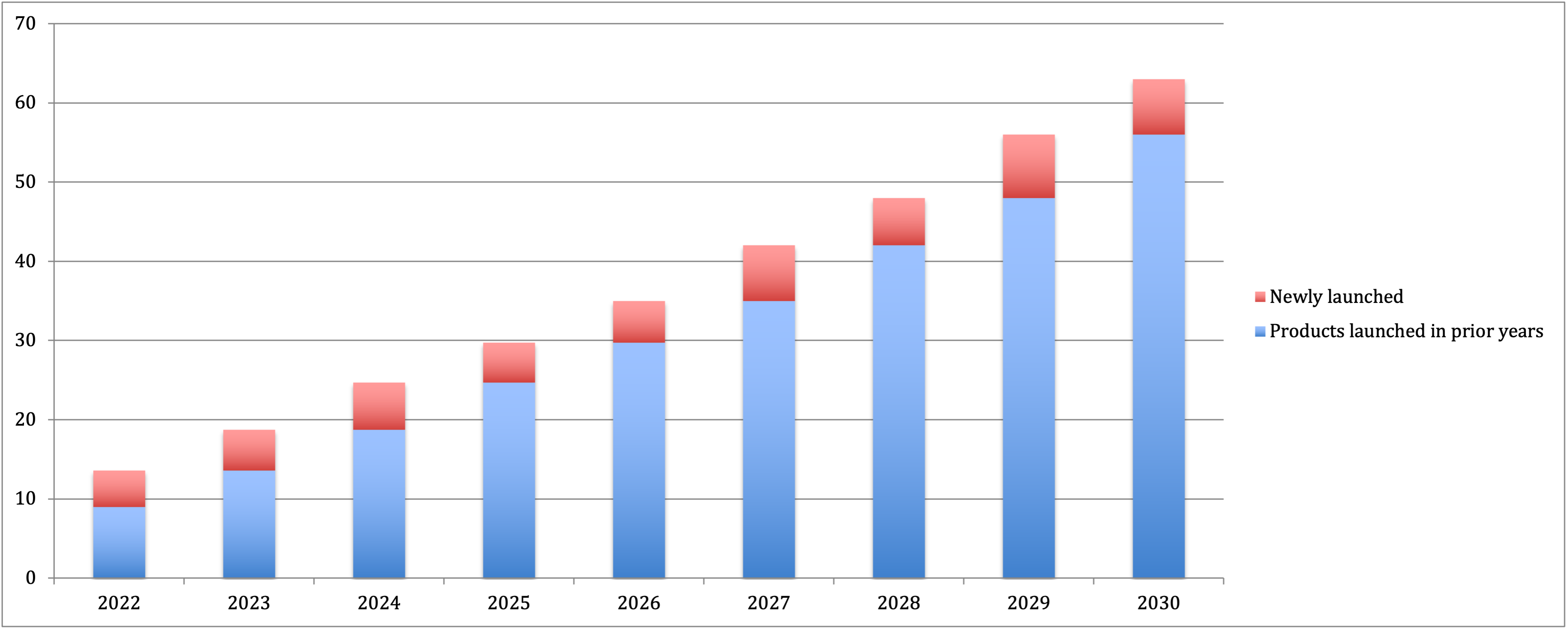 The key uncertainty in these estimates is how many patients and physicians will use these therapies and how quickly – which we call "adoption rate". We have assumed that conditions with no good treatments today and with more severe/fatal consequences will see greater and faster adoption of gene and cell therapies. We will continue to analyze this as we learn more about how patients and physicians make treatment choices in the real world.
Note: This estimate reflects the current pipeline in development. We expect that scientists will continue to add new treatments to the pipeline. This means that, towards the later years of this estimate, we may see additional products launch.
While clinical trial outcomes and regulatory approvals are never guaranteed, by 2026 we expect the following types of products may be available to patients:
Oncology
Additional therapies for B-cell leukemia and lymphoma
Rare Disease treatments
Hematological conditions
Hemophilia A & B
Sickle Cell anemia
β-thalassemia
Additional treatments for ophthalmological conditions
Neurological conditions
Higher prevalence disease treatments
Age related wet macular degeneration
Diabetic peripheral neuropathy
Osteoarthritis (Knee)
To see what conditions are included in this analysis or understand how many patients we estimate will meet the criteria for treatment for a particular indication if a product successfully completes clinical trials, you can use the Population Estimator Tool found in the Individual Indication workbook for payers.

The Population Estimator Tool lets you you select the therapeutic class (e.g., ophthalmological), the disease (e.g., Leber's congenital amaurosis), and the sub-population, which is often a genetic marker). It then gives you an estimate of the number of patients (incidence and prevalence) that may be treatable with products currently in clinical trials.

The rest of the tool is designed to allow health plans to run some simulations to estimate the potential cost of the therapies to their plans. Fields are available for the user to input costs. A FoCUS assessed default price for therapy can be replaced by the user's estimated cost of the therapy product. Additional costs may be added (Administrative costs, travel, etc.) or subtracted (rebates, payments by other insurers, etc.) and may be a useful field for quantifying the financial impact to patients.
Please note: Use of the Paying for Cures Toolkit website and its planning tools is subject to our Terms and Conditions
Patient views and challenges
Key takeaways
Patients and caregivers face many interconnected challenges in navigating their disease and treatment.
Some of these challenges are linked to costs and lost income/job insecurity.
Others relate to non-finance-specific issues such as provider communication, resource navigation within the healthcare system, unevenness of adequate medical care geographically, and managing mental health and stress.
Resource navigation in finding and using financial and other resources is not adequately or uniformly supported across the fragmented healthcare system.
FoCUS undertook a systematic literature search focusing on patient views on economic or financial burden, stress, or distress; patients, caregivers, or family. The results – as seen below — highlighted 27 themes spanning finances, mental health, demographics and socioeconomics, and a range of challenges that relate specifically to how patients and caregivers actually navigate the healthcare system to access treatment.
Themes from systematic review of patient and caregiver perspective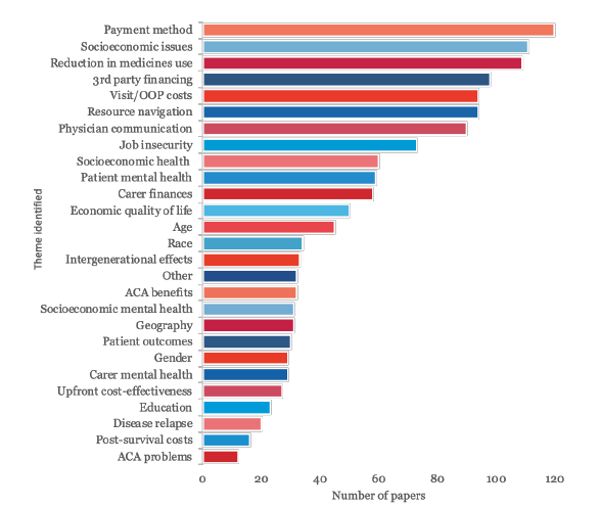 Our review of the literature showed us how variable the patient and caregiver experience is, and how many factors intersect to influence their experience. Additional information on the research may be found here.
"Resource Navigation" was the fourth-most common theme established (after payments, socio-economic challenges and medical care reduction). Patients need supports that includes management of financial challenges. This includes navigating the fragmented landscape of potential monies available, and locating people who could help with this task. Providers were most commonly found to be expected to provide this 'navigator' role; developers were rarely mentioned in this context. However, some studies also discussed how providers are not trained in this role either, and so the patient and caregiver need may not be consistently met. Additional information on the research may be found here.
Multiple organizations have been educating and assisting patients with navigating access and financial assistance for some years. Specifically addressing rare diseases and/or gene and cell therapies are organizations such as NORD (National Association of Rare Disease), the Cancer Support Community, and the American Society of Gene and Cell Therapy to name a few. Given the fragmented nature of US healthcare delivery and financing however, at the patient and caregiver level the research demonstrates a need for greater assistance in making these and other resources known.
Financing solutions and implications for patients
Key takeaways
Developers and payers are exploring and implementing a variety of innovative solutions to help address financing challenges.
No one size fits all – the right solution varies by product type and payer.
Payers are interested in implementing new financing approaches – with high priority and urgency.
Payers' different challenges may lead them to prioritize different solutions, but most payers are interested in paying for what works.
Payers not only need financing solutions but the capacity to implement these solutions, from elements of therapy administration to data tracking for performance contracting.
The NEWDIGS FoCUS consortium (payers, providers, patient advocacy organizations, pharmaceutical developers, academics and others) has been working together since 2016 to address the need for new, innovative financing and reimbursement models for durable, transformational therapies in order to ensure patient access and sustainability for all stakeholders. The problem of finding system-wide, implementable precision financing models for curative and durable therapies involves all stakeholders. Payers and developers may address various financial challenges associated with paying for these therapies with one of the proposed FoCUS financing tools. With the use of any financial solution, patients are afforded access to the therapies but are also affected by different elements of the financial solution selected.
FoCUS participants aligned on a set of high-potential financing tools (listed below) that can help address the challenges of upfront payment, performance risk and actuarial risk. A more detailed description and additional resources on each may be found by clicking on the name of the solution.
Milestone-based Contracts Multi-year Milestone-based ContractsPerformance-based AnnuitiesPayment Over Time/Installment FinancingSubscriptionReinsurance/Stop Loss Insurance Risk Pools
Orphan Reinsurer and Benefit Manager (ORBM)Warranty
These high-potential financing tools are not one-size-fits all. Payers will need to determine which tool best fits their particular circumstances. FoCUS stakeholders also identified a number of considerations required with implementing the gene and cell therapy finance tools. Key issues for providing patient access and employing precision financial solutions are found at this link.
The design considerations roughly fall into two categories – those related to administration and management of a therapy and those related to carrying out precision financing solutions. Which tool a payer uses to assist in payment for a therapy may impact the patient experience.
Key therapy administration and management challenges:
Treatment facility requirements
Center of Excellence requirements
Geographic coordination challenges
Provider reimbursement development and contracting
Pre- and post-treatment clinical care requirements
Key financing solution challenges:
Actuarial capabilities and risk acceptance
Developer performance-based contracts
Identification of performance metrics
Collection of performance data
Patient tracking over time
Patient mobility management
Evaluation of collected data to performance criteria
Collection of any performance-based rebates and/or payments
Payers are developing strategies to address the financial risks seen with high-cost durable and curative therapies. The successful adoption of any innovative financial strategy however, cannot happen without patient support; this will only come with an understanding of the payers' objectives. Further details on payer views and challenges follow below.
Patient impact
Key takeaways
Access to high-cost gene and cell therapies may require innovative financing solutions with different requirements for care and outcomes tracking. To access therapies, patients may need to address financing and resource navigation issues.

They may have copayments, depending on their health plan benefit design.

They may need to help payers and developers track results (outcomes) over time.

Out-of-state access to providers and treatment centers may be needed as some therapies may be offered in limited centers of excellence.
Elements of solutions to patient financial burden that have already been offered by stakeholders for some therapies or considered more broadly in the FoCUS discussions include:

Pharmaceutical assistance programs

Patient access support programs (not available for patients covered by government payers)

Provider discounts and charitable write-offs

Benefit design waiving co-pays, deductibles and coinsurance for these products, provided it could be done without inducing adverse selection; and

Continued innovation in financial service offerings.
What do these therapies and new payment models mean for patients?
Individual products in the broad category of durable, transformative cell and gene therapies have different profiles and characteristics that affect the various precision financing solutions outlined by FoCUS stakeholders. For example, new infrastructure may be needed for treatment delivery and follow up care. New information technology (IT) and data collection requirements may be required for product performance measures. These concepts are illustrated in the research briefs "Precision Financing challenges for solid tumor adoptive t-cell therapies" and "Outcomes Tracking"
Patient and caregiver experience will vary by payer and therapy but there are several common themes:
Payment Financing
Patients may have copayments for these therapies. Many patients affected by conditions targeted by durable therapies often already face high financial burdens. Patient direct healthcare out-of-pocket costs include co-pays, coinsurance payments, deductibles, and high annual cost sharing limits. Additionally, patients have non-medical out-of-pocket costs including travel and possible loss of income due to treatment.
Patients will want to understand what their health plan benefit requires in terms of financial contribution and what financial support might be available from any given pharmaceutical companies access support program.
As patient copay costs primarily serve to encourage patients and their clinicians to make more appropriate healthcare choices when effective, lower cost options are available. FoCUS participants, including several payers, suggested that co-pays, deductibles and coinsurance be waived for these products provided it could be done without inducing adverse selection. That said, such a change in benefit design can require state insurance approval and may take up to 18 months. Read more here. A FoCUS Research brief on State Insurance Regulations Regarding Benefit Design (Deductible and Co-Pay Waivers) may be found here.
Patients will likely need to co-create with payers and developers, methods for the least burdensome and most beneficial tracking of results and outcomes over time. The Food and Drug Administration requires developers to obtain long-term follow-up data for these novel therapies. In addition, the types of multi-year payer-developer contracts described above that link payment or refunds to whether the medicine is effective over time will also require patient data to be tracked for multiple years. This can be particularly challenging if patients switch health plans or providers. Patients may be asked to commit to a follow-up care schedule and allow their data to be shared with the organizations administering performance contracts before they start treatment. Read more here regarding patient mobility and here regarding outcomes tracking.
Resource Navigation
Out-of-state access to providers and treatment centers may be needed. Most gene and cell therapies today are administered by physicians certified to do so in "centers of excellence." These centers of excellence may not exist in every state. Patients may need to travel out of state for treatment. Read more here regarding centers of excellence and here regarding out of state networks.
Potential Elements to Alleviate Patient Financial Burden
Elements of solutions that have already been offered by stakeholders for some therapies or considered more broadly in the FoCUS discussions include pharmaceutical assistance programs, patient access support programs (not available for patients covered by government payers), provider discounts and charitable write-offs, benefit design waiving co-pays, deductibles and coinsurance for these products, provided it could be done without inducing adverse selection and continued innovation in financial service offerings.
Pharmaceutical assistance programs are a partial solution that may also apply to durable, potentially curative therapies. Manufacturers of chronic, rare disease medications (e.g., intravenous immunoglobulin (IVIG) or enzyme replacement therapies) often offer co-pay support programs for patients with commercial insurance as well as donations to 501(c)(3) organizations that offer financial support for patients with public insurance.
Access support programs: In the gene therapy space, for example, Spark Therapeutics Generation Patient Services provides a support team to find resources to support out of pocket costs. The independent charitable organization, The Assistance Fund, provides funds to support access to treatment of various diseases for patients including those with Medicare or Medicaid plans. These types of programs are helpful, but likely inadequate. Further limiting the patient benefit of assistance programs, some Pharmacy Benefit Managers (PBMs) have instituted Accumulator Adjustment Programs (AAPs) that can have a negative financial impact on patients by no longer allowing co-pay assistance amounts to count towards a member's accumulator, which is the dollar amount applied to the patient's deductible or out-of-pocket costs. If AAPs are applied to curative therapies, then any positive effects of a manufacturer's assistance program would be negated.

Providers may also provide discounts and charity care, particularly non-profit providers with both mission and legal rationale to do so. Such capacity, however, is limited.

Financial services solutions: The financial services industry already provides patients with second mortgages, consumer loans and credit card debt, among other services to aid in financing healthcare costs, however accessibility to these is low and very unevenly distributed in society. Additional financial instruments, such as personal healthcare loans, have been suggested. Continued innovation in financial services, particularly for patients with poor current credit scores but improved prospects after therapy, is needed.
The Bibliography provides a list of additional sources of information on the topics in this toolkit.
Payer views and challenges
Key takeaways
Durable therapies create three types of challenges for payers: payment risk, performance uncertainty and actuarial risk
The challenges will vary by therapy and payer. Large plans are likely to be the best prepared to address these challenges.
Survey results reflect that payers have a heightened concern regarding the financial risk and sustainability of high cost one-time durable treatments
One of the most important elements payers would like to address in financing solutions is performance risk. Almost half would find it extremely beneficial to only pay for a therapy that works
FoCUS stakeholders have been assessing how financing durable gene and cell therapies differ from paying for traditional therapies concluding that all payers face the same three issues in planning and paying for these therapies:
Issue

Definition

Why does it matter to payer?

Payment Risk

Risk includes total cost at one point in time and the misalignment of cost and benefits (cost will be up front, while benefits will come over time as the patient is healthier)

Payment for one high cost treatment may be manageable by the payer but may significantly alter the organizational budget and financial plan.

Payer may incur the treatment cost while a future payer (competitor) realizes the benefits when the patient changes health plan coverage.

Performance uncertainty

Ability to accurately predict for whom the selected therapy will work, how well and how long

Payers don't want to pay for therapy that doesn't work.  Therapy performance failures would include a failure to initially respond fully or partially, or a lack of durability of the treatment over time.

Actuarial risk

Uncertainty about how many patients the payer will have taking a certain therapy

The impossibility of anticipating these high cost claims creates uncertainty ranging from how to set premiums to risking no claims will occur and dealing with significant impacts if they do.
An inability to manage these risks creates significant downstream challenges to those individuals covered by the payer's benefits.
The potential downstream impact for a health plan includes:
Increased premiums
Increased cost shifting to members
Decrease in services (customer or health care coordination) offered
Slower payment to providers potentially leading to network disruption
Exit from the market
The potential downstream impact for the self-insured employer includes:
Increased employee premium contribution
Decrease in coverage benefits
Actions to maintain business viability
Our research has shown that health plans appear particularly interested in contracts to manage product performance risk by paying for what works. Self-insured employers expect they may need to enter larger insurance pools to manage their actuarial risk better. Some of these solutions are being tested today; FoCUS stakeholders are further exploring others solutions that face challenges, given how government pricing and other regulations are currently written.
In practice, the importance of each challenge will vary by therapy and by payer. For example, from a therapy perspective, payer mix can vary by disease. Medicare payers will likely pay for more oncology cell therapies. Medicaid plans will see a larger share of treatments to address genetic conditions that manifest in childhood. Therapies may have different levels of performance uncertainty depending on what data is available at launch.
From a plan perspective, size matters. Large plans may see multiple patients with a particular condition treated by gene or cell therapy. Small plans may not have any patients seeking gene of cell therapy, but if they do, may have greater difficulty paying for a high-cost, durable therapy. Given their size, large plans that can spread their risk across a larger number of patients are expected to be able to handle the cost of durable cell and gene therapies and better predict their actuarial risk. Large payers may also see greater alignment between paying for a treatment and benefiting from reduced costs later. A large payer that invests in treating a patient, who then leaves their plan, will likely receive other incoming patients whose treatment may have been paid for by another payer. FoCUS has developed tools to help payers assess the potential impact of these therapies on their populations. These tools are available in this toolkit here.
In late 2018, early 2019, FoCUS surveyed 77 health plan leaders, representing 153 types of plans. These included commercial payers (36%), Medicaid (27%), Medicare Advantage (30%) and self-insured employers (7%).
80% of respondents had high to extremely high concern about managing the financial risk and impact of high cost durable therapies.
They had multiple concerns, as the chart below shows: the cost of the therapies, the total cost of many new therapies to treat different conditions, how well the products would work/product performance and their ability to accurately predict how many patients they would have (actuarial risk). Greater detail from the survey can be found here.

Payers are likely to change how they manage the financial risk of these therapies as more therapies come to market. Our survey indicated most payers were expected to implement a strategy on how to best manage these therapies within the last two years. Further analysis is needed to confirm actions taken by these payers.
One of the most important issues payers would like to address is performance risk – how well will the therapy work and for how long. Almost half of payers surveyed would find it extremely beneficial to only pay for a therapy that works.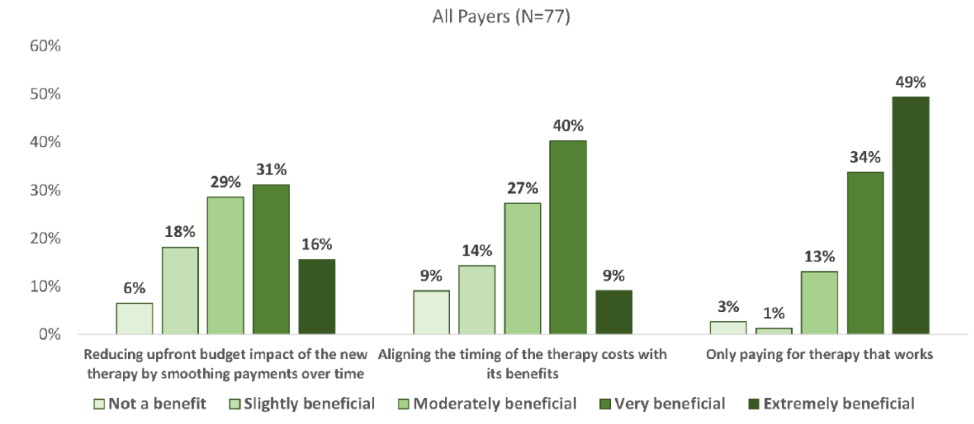 In summary, payers are interested in implementing new financing approaches – with high priority and urgency, yet different payer segments have different challenges and may be more closely aligned with different financing models.