For Payers: Individual Indication
Introduction
Durable, potentially curative therapies offer great hope for patients and society. Short, even single dose, treatment regimens are expected to yield lasting health benefits. However, there is uncertainty about the volume and nature of therapies that are coming as well as concern that large, single payments for a wave of therapies will challenge the current reimbursement system, more oriented towards paying for chronic treatment over time.
This section provides a concise resource for payer organizations wishing to think through the implications of a particular individual durable cell or gene therapy for their business(es) and the potential precision financing solutions, processes and capabilities they may need to put in place to prepare for patient access to these therapies.
We have structured this resource around a set of key questions.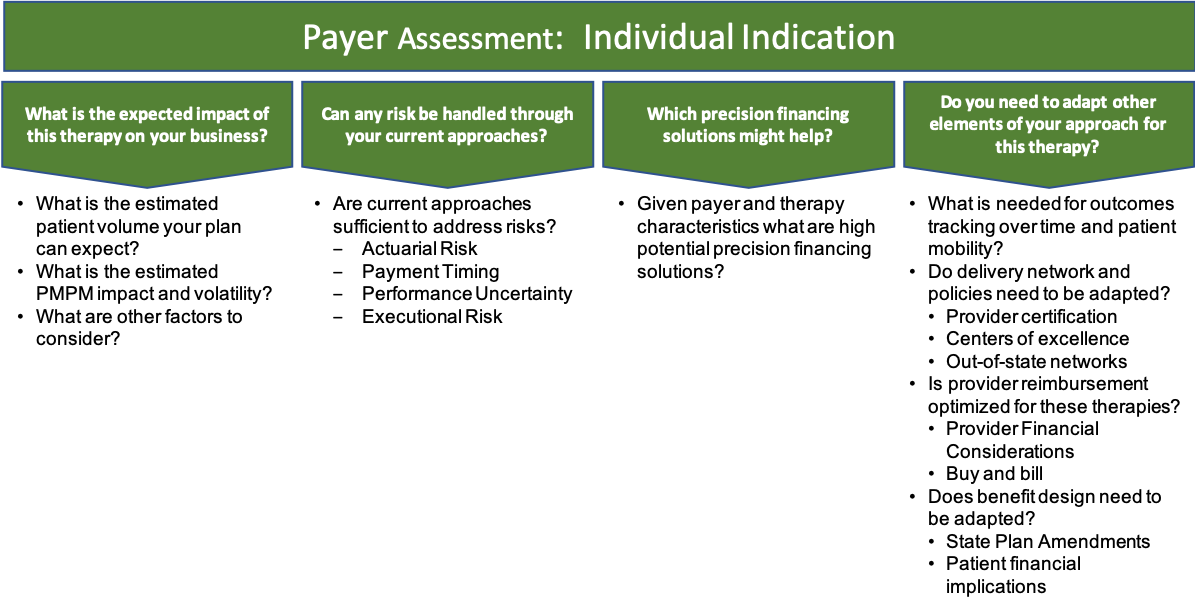 Figure 1: Key Questions—Payer Individual Indication Assessment
A companion workbook has been created to assist you in answering these questions and understanding the implications for your organization:
Download the Individual Indication Worksheet (xlsx)
A detailed description of the components of the workbook is provided here.
Please note
Use of the Paying for Cures Toolkit website and its planning tools is subject to our Terms of Use.
Expected payer impact
Whilst traditional pharmaceutical products have various financial coverage challenges, individual products in the broad category of durable cell and gene therapies have different profiles and characteristics affecting the need for various precision financing solutions. Financial considerations of a new cell or gene therapy for an indication and product extend to:
An assessment of the potential payer impact of a specific cell or gene therapy requires understanding the above identified characteristics of the disease and the product. The FoCUS Individual Indication Worksheet will help payers assess various components of population size and disease characteristics. Organizations will need to perform an internal assessment for cost benefits and clinical management of the new therapy.
We advise each company to conduct its own more detailed operational analysis before making final decisions.
What is the estimated patient volume your plan can expect ?
NEWDIGS FoCUS undertook a pipeline analysis to determine the scale of the financing challenge of curative therapies in the United States. The team developed estimates of the clinically relevant national incidence and prevalence of patients who might benefit from various product-indication launches. We have made those national estimates available within the Individual Indication workbook for payers to model an estimated patient volume for their plan.
The eligibility criteria used by FoCUS to estimate patient volumes aligns with the clinical trial criteria or an approved product's FDA label eligibility criteria. Incident patient volumes are newly diagnosed individuals or those that newly meet the eligibility criteria for therapy. Prevalent patient volumes are individuals living with the disease or condition and currently meeting treatment eligibility criteria.
Patient volumes estimates by incidence or prevalence have different financial management impacts. The incident population is "unknown" and may require a financial strategy for addressing unanticipated high cost. With prevalence, the population of individuals living with the target condition is known. The Individual Indication workbook estimate of the prevalent population for a payer provides insights into potential number of individuals to be treated. A further assessment of this volume may be completed by reviewing existing claims for individuals with the target condition. Treatment of the prevalent population may require payer use of a financial strategy to address the impact of numbers of patients seeking treatment should the volume of patients be significant.
An additional consideration for patient volume is payer type or line of business. As disease incidence and prevalence vary by age, potential patient volumes for the plan will differ by line of business - Medicare, Medicaid, or not Medicare or Medicaid. For example, Medicare plans will likely see a larger share of the oncology cell therapies; Medicaid plans will see a larger share of treatments to address genetic conditions that most often occur at birth or are diagnosed in early childhood.
What is the estimated PMPM impact and volatility?
Once potential patient volumes are known, an estimate of cost of treatment is needed to determine a Per Member Per Month (PMPM) financial impact. In addition to product cost, the cost of treating a patient with cell or gene therapy includes pre- and post-therapy care, administration of the therapy, and patient cost burden (deductibles, coinsurance, travel expenses, etc.). A financial assessment of cost savings after therapy may also be a variable to define the PMPM impact. FoCUS has developed the Individual Indication workbook to determine the PMPM impact based on product cost. The user may expand the model to address additional costs and cost savings.
The cost outlined above are typical for both traditional pharmaceutical products and gene and cell therapies. The nature of cell and gene therapies, however, includes additional financial considerations briefly reviewed through the links below.  The logistical and financial challenges to providing access to new to market cell and gene therapies is an opportunity for development of cost management strategies.
Ultimately, the PMPM impact of cell and gene therapy is greatly influenced by organization size. Statistically, for therapies with small target populations, a given plan may expect to see no patients on therapy in most years, and a PMPM impact that reflects that. However, in the year that that patient does materialize, the plan will have the full cost of the treatment. The need for financial strategies for access to cell and gene therapies is greatly influenced by the organization's overall size, costs and budgeted PMPM costs.
What are other factors to consider?
Some developers may offer rebates on the cost of their product. The durable gene or cell therapy may also be covered by stop loss or reinsurance, requiring only payment of the agreed upon deductible. The PMPM estimate generated by the Individual Indication tool may be decreased when these offsets are included. However, payment timing should be considered as rebates and secondary insurance claims reimbursement may lag months after the time therapy payment is required.
Any financial impact estimates created may be used to inform strategic assessments, but with appropriate appreciation for the challenges of estimating a new-to-world class of therapies. We advise each organization to conduct its own more detailed operational analysis before making final decisions.
Ability to address risks through current approaches
Durable, potentially curative therapies create three potential financing challenges.
Actuarial risk: The number of eligible patients in a payer's population may be uncertain and could vary significantly from period to period.
Payment timing: Therapies can involve substantial upfront payment for multiple years of therapeutic benefit.
Therapeutic performance risk: Real world efficacy and durability are uncertain at the time of initial regulatory approval and market launch.
Greater detail on these critical precision financing dimensions may be found here.
The Individual Indication workbook facilitates your plan assessment of financial impact from treating the targeted condition with a cell or gene therapy. Within the workbook, the Solution Prioritization Tool worksheet suggests precision-financing solutions for a particular therapy based on the payer's assessment of the data generated by the workbook.
FoCUS has collaborated with its stakeholders to create and/or evaluate multiple precision financing solutions for the unique financial dimensions of gene and cell therapy. Details on the precision financing tools are found here.
Actuarial Risk Assessment: Can your organization absorb the financial impact in total, given your risk tolerance and current risk management approaches?
Actuarial risk is the risk of the unknown. Based on the population size and the targeted indication, payers may experience costs for no patients, one patient or significantly more. Financial assessments should be completed for both limited and significant numbers of patient treatments as it is difficult to predict which of these scenarios will transpire. Based on the impact modeling, you can assess your plan's readiness to manage the actuarial uncertainty associated with the individual therapy.
A significant part of actuarial assessment includes evaluation of existing mechanisms for managing potentially curative therapy costs and may include stop loss/ reinsurance, the practice of establishing cash reserves and others. Assessments should include confirmation of coverage under stop loss or reinsurance policies when determining if existing mechanism for financing gene and cell therapies are sufficient. Issues impacting the use of stop loss or reinsurance for cell and gene therapy may be found here.
Payment Timing: Can your organization absorb the financial impact in the timeframe it is expected?
One of the ways in which potentially curative products differ from traditional pharmaceutical products is that there is a one-time payment wherein chronic treatments' reimbursement occurs over time. Payment timing thus becomes a risk to existing budgets and cash flow.
Financial planning should include an assessment of incurring a claim at various points in the budget year. A payer incurring a claim for a curative treatment in March may have the ability to make operational adjustments to still meet the calendar financial plan whereas that is less likely for a payer incurring a claim in November.
Treatment of prevalent conditions causes a different type of payment challenge – a pool of patients waiting for treatment. Within the first few years of launch the number of individuals eligible and seeking the treatment will be greatest, increasing the likelihood of multiple claims. The initially high PMPM will eventually decrease to only those newly diagnosed as treatment eligible. The plan will need to make assumptions regarding the rate of adoption of the new therapies by providers and treatment eligible individuals to inform their financial decisions.
Performance Uncertainty: Does your organization wish to include performance requirements for the therapy?
Real world efficacy and durability are expected to be uncertain for a number of these therapies at the time of initial regulatory approval and market launch. Performance guarantees between payers and developers can help address concerns of performance related to efficacy and durability and assist in patient access to medicines.
Some payers may request developers to address the risk of product performance failure with some type of performance guarantee. Other payers may feel a performance guarantee is unnecessary given their confidence in the product results from clinical trials and current market performance. The FoCUS outlined precision financing solutions for durable and curative therapies may or may not include a construct for product performance. Other solutions presented by FoCUS directly address performance risk without a financing solution.
Possible precision financing solution(s)
Insights from the Therapy Impact Modeling Tool and your organization's preferences are used to help you assess precision financing needs for your organization. Based on the plan's assessment, the Solution Prioritization Tool within the individual indication worksheet suggests possible financing solutions.
Following an assessment of payer's tolerance for the estimated actuarial, payment timing and performance risk, the there are three key issues to consider:
Does your assessment of actuarial and payment-timing risks based on the Therapy Impact Model indicate your organization has the ability to manage the financial impact from the curative/durable therapy being evaluated?
Are you evaluating a therapy with a known group of treatment eligible patients?
Does your organization desire to address therapeutic performance risk?
The Solution Prioritization worksheet provides suggestions for possible financial solutions based on the answer to these three questions. Hyperlinks within the tool have been created to enable you to read descriptions of each solution. The same content may be accessed here.
Assessing a total solution approach
In addition to financing needs, FoCUS identified a number of solution design considerations required to administer gene and cell therapies. Key issues for providing patient access and employing precision financial solutions are found here.
The design considerations roughly fall into two categories – those related to administration and management of a therapy and those related to implementing precision financing solutions.
Key therapy administration and management topics to consider:
Treatment facility requirements
Center of Excellence requirements
Geographic coordination challenges
Provider reimbursement development and contracting
Pre- and post-treatment clinical care requirements
Key financing solution topics to consider:
Actuarial capabilities and risk acceptance
Developer performance based contracts
Identification of performance metrics
Collection of performance data
Patient tracking over time
Patient mobility management
Evaluation of collected data to performance criteria
Collection of any performance based rebates and/or payments
Multiple products commercially available to support durable gene and cell therapy access are categorized below.
Category

Characteristics of the products

Payer reinsurance/stop-loss/
risk carve out solutions

Carve out of financial responsibility or risk for specified cell and/or gene therapies, or other specified high-cost therapies.
May or may not have financial attachment points; carve out is specific to the covered therapy and not total patient medical and drug costs
Do not offer performance guarantees, but assume all actuarial/financial risk

Contract negotiation and data management services for payers and pharmaceutical companies

Act as third parties to negotiate contracts for cell and gene therapies
Provide data/outcomes tracking services
Contracts may include performance guarantees, but the service company themselves do not assume financial risk

Provider contract negotiation services

Oriented towards providers and patient care pathways
Multiple services offered, including COE network creation and contracting, data analytics and cost containment
Performance guarantees are oriented towards clinical services and outcomes rather than financial guarantees

Financial and pharmaceutical company warranty services

Include payment plans, with or without performance guarantees, and warranties for purchase by pharmaceutical companies that can provide protection to payers for suboptimal product performance
It may not be efficient for all payer organizations to build capabilities internally to serve patients treated with durable therapies or to establish their own contracts with treating providers and developers. Market solutions are emerging to efficiently address the required capabilities. A white paper based on a survey of currently known market solution providers was published in June 2021 and can be found here.
Click this link for access to a list of questions developed to help a payer evaluate gene and cell therapy products and the organizations administering them.