Distinctiveness of durable therapies
The development of transformative cell- and gene-based therapies over the past decade has raised the possibility that patients with rare diseases could live without the need for ongoing treatments or the burden of daily disease management after a single course of treatment.
These products differ from traditional pharmaceutical products in that patients may benefit for a long period after the administration of therapy. This disrupts the normal payment paradigm for chronic treatments wherein reimbursement occurs in parallel with the recognition of benefits. In many ways it is a shift from a model of 'renting' treatments to one of 'buying' long-term health improvements as the following graphic illustrates.
Figure 1: Therapy characteristics influencing precision financing needs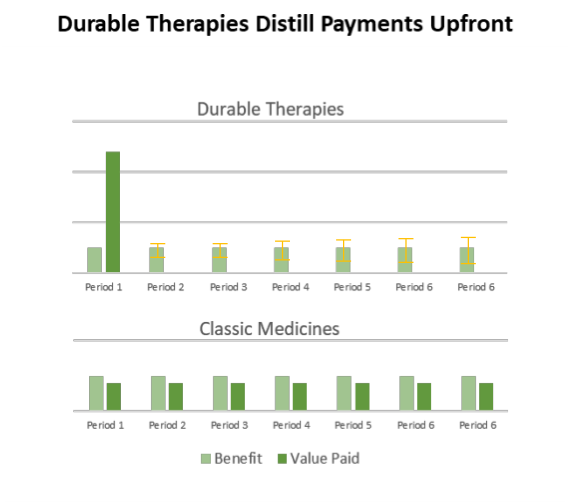 Paying for the full value of the treatment upfront creates a number of challenges, resulting from:
Uncertainty about real world benefits (uncertainty about the benefits in a broader, real world population and the duration of those benefits given limited clinical trial data for this new area of science);
Potential disconnects between who pays and who benefits (due to the potential for patients to change insurance plans over time after they have received treatment); and
Difficulties in paying for the full value of the treatment upfront (particularly for smaller payers for whom patients may be infrequent and who may have a smaller population base over which to spread the higher upfront treatment costs).
While all therapies will have these challenges, individual products in the broad category of durable, transformative cell and gene therapies have different profiles and characteristics that affect the need for various precision financing solutions.
Expected availability to 2030
Key takeaways
The nature of one time treatment for a sustained benefit or cure has disrupted the normal payment paradigm
Robust pipeline: ~780 active, durable, cell and gene therapies in development for the US market
Expect 60+ product-indication launches in US by 2030, assuming clinical trial success
The number of therapies and those eligible for treatment will steadily increase over the next decade, creating a need for new payer strategies
Pipeline Estimator tool has been developed to support payers as they develop a financial strategy
Durable, potentially curative therapies offer great hope for patients and society. However, there is uncertainty about the volume and nature of therapies that are coming as well as concern that large, single payments for a wave of therapies will challenge the current reimbursement system, more oriented towards paying for chronic treatment over time. As a result, payers now require an overall strategy for addressing the aggregate effect of durable, curative cell and gene therapies in their organizations to prepare for patient access to these therapies.
To assist in the assessing the financial impact of current and future gene and cell therapy products, NEWDIGS FoCUS has conducted a unique, detailed, indication-by-indication analysis to estimate the expected volume of durable cell and gene therapies likely to be available on the US market in the coming years. The model has been developed and refined over a period of several years, and continues to be updated on an ongoing basis. Updated results are published periodically. Details regarding this analysis can be found here.
Currently, seven individual drugs for 10 indications are approved for patient use in the US .At year-end 2020, there were 780+ active, durable, cell and gene therapies in development. Slightly over 300 of these are product trials in China by China-based developers. We have excluded these from the analysis to arrive at potential candidates for the US market as it is unlikely they will be marketed in the US.
Figure 1: Pipeline of active programs in development for durable cell and gene therapies for the US market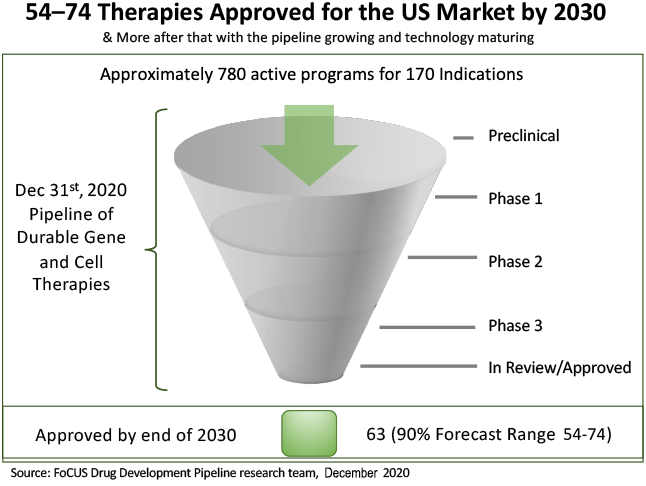 NEWDIGS FoCUS included in the model development detailed estimates of clinical trial progression rates, disease incidence and prevalence and estimated patient uptake for each product indication. Approximately 57% of product candidates in development are for oncology patients, 36% are for orphan, non-oncology indications and 7% are to treat larger therapeutic areas such as cardiovascular conditions. The current pipeline of US-targeted therapies is expected to result in 60+ product-indication approvals (estimated range 54-74) by 2030; the model's projected rate of approvals estimates there will be 35 treatments within the next five years (2026), with an average of five new approvals annually.
Figure 2: Projection of product launches from pipeline analysis
Source: FoCUS Drug Development Pipeline Research Team, December 2020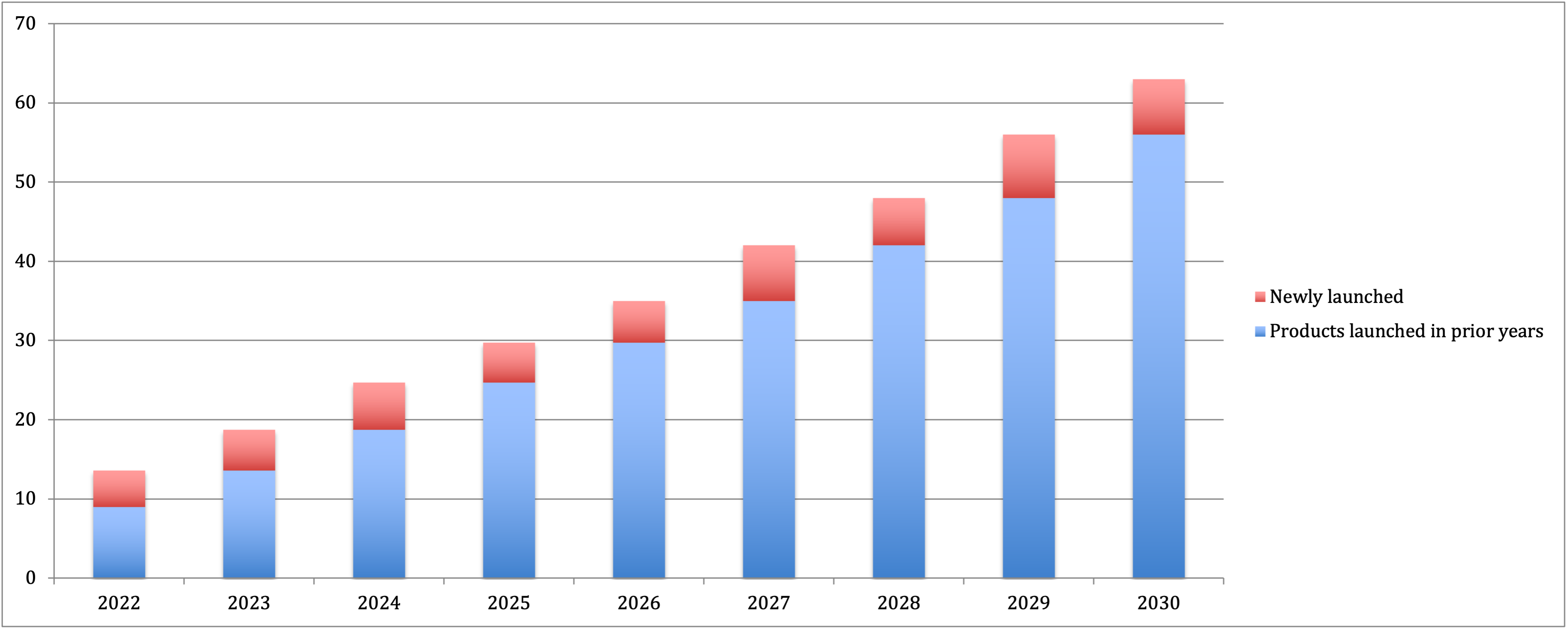 Note: This estimate reflects the current pipeline in development. We expect that scientists will continue to add new treatments to the pipeline. This means that, towards the later years of this estimate, we may see additional products launch.
Another facet of the product pipeline analysis is the estimate of the numbers of patients treated each year. Data on treatment-eligible incident and prevalent patient populations were manually determined using a range of sources that varied by disease. The outcome of this analysis is presented in Figure 3.
Figure 3: Total treated patients per year for all durable gene and cell therapies
Source: FoCUS Drug Development Pipeline Research Team, December 2020. Chart from Drug Discovery Today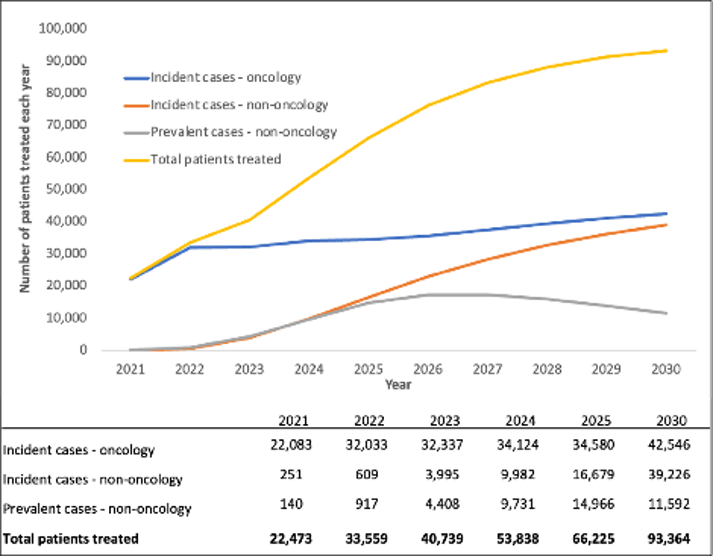 The incident population refers to the number of new cases of a characteristic or condition that develop in a specified time period. For the analysis, select individuals with chronic, degenerative diseases that reach a particular 'tipping point' represented by a change in diagnosis or a change in treatment were also considered part of the incident population.
The prevalent population refers to those who have a specific characteristic or condition in a given time period and are living with the disease or condition such as hemophilia or sickle cell disease. Figure 3 shows treatment of the prevalent population peaks in 2026 and 2027 and then declines as numbers of untreated patients declines.
The model projection of the treated patient population sizes requires estimating how much of the eligible incident and prevalent populations will actually be treated. The key uncertainty within the FoCUS model lies in market penetration and adoption rates for these new-to-world therapies. Treatment projections are driven by two parameters
Peak market penetration: What percentage of the clinically eligible population will be treated.
Time to peak or adoption rate: How long to achieve the peak penetration (from 1 to 7 years)
The eligible population along with the projection of a market penetration and adoption rate for the product was used to estimate the potential number of patients on a year-by-year basis. Based on estimated prevalence and incidence, by 2030 a treatable patient population of 90,000+ patients per year might be helped by these therapies.
If you would like to see the pipeline impact for payers, you can use the Pipeline Estimator Tool. This payer worksheet enables a plan to estimate the product cost of durable therapies based on plan size and their payer type (Medicare, Medicaid, Not Medicare or Medicaid). It provides a concise resource for payer organizations wishing to think through the implications of the pipeline of durable therapies for potential precision financing solutions and the capabilities needed to ensure patient access. Insights gained from the Pipeline Estimator are intended to help a payer answer the questions:
What is the estimated impact of the coming pipeline of treatment on my business?
Can the impact be handled through current approaches?
Payer perspectives on durable therapies
Key takeaways
Payers have a heightened concern regarding the financial risk and sustainability of high cost one-time durable treatments
Both high upfront cost of individual treatments and the total financial impact of multiple treatments are a concern
One of the most important elements payers would like to address in financing solutions is performance risk. Almost half would find it extremely beneficial to only pay for a therapy that works
Most payers plan to develop policies for these therapies
In late 2018/early 2019, FoCUS conducted an on-line survey of clinical and financial health plan leaders. 77 participants, representing 153 payer segments including commercial payers (36%), Medicaid (27%), Medicare Advantage (30%) and self-insured employers (7%), responded. A research brief providing survey information can be found here.
80% of respondents had high to extremely high concern about managing the financial risk and impact of high cost durable therapies.
Respondents had multiple concerns, including the cost of the therapies, the total cost of multiple therapies, product performance and actuarial risk (the ability to accurately predict how many patients they would have).

Payers are somewhat likely to manage the financial risk of these therapies differently from how they manage that of high-cost chronic treatments.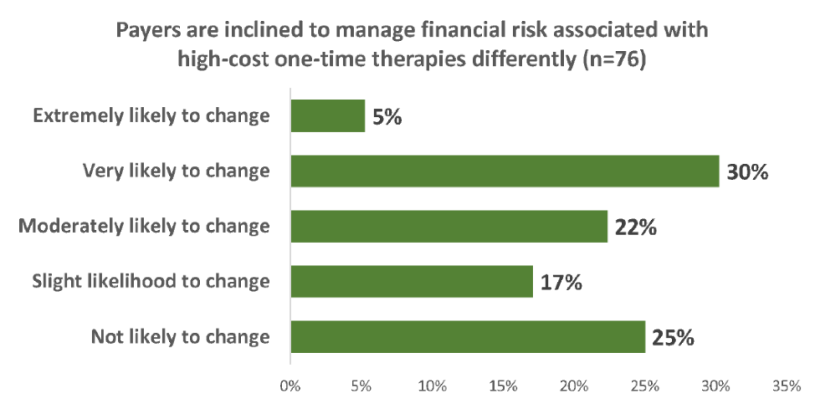 One of the most important elements payers would like to address in financing solutions is performance risk. Almost half would find it extremely beneficial to only pay for a therapy that works.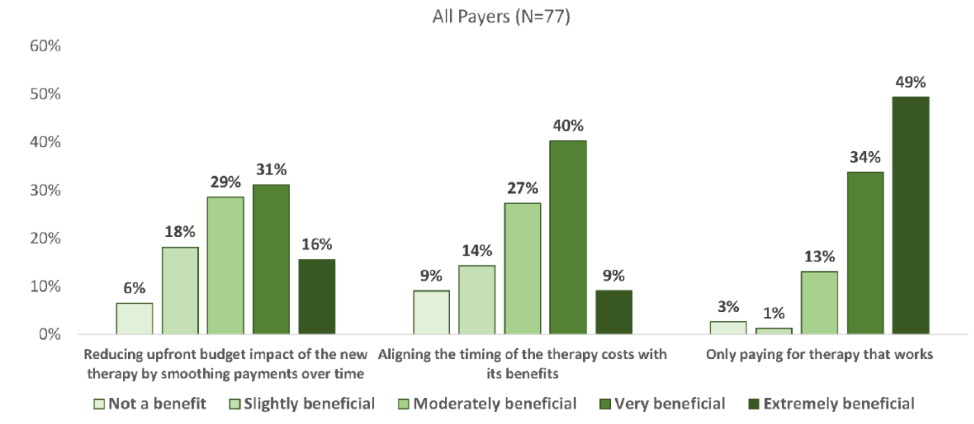 Please note: Use of the Paying for Cures Toolkit website and its planning tools is subject to our Terms and Conditions
Challenges vary by payer
Key takeaways
Durable therapies create three types of challenges for payers: payment risk, performance uncertainty and actuarial risk
The challenges will vary by therapy and payer. Large plans are likely to be the best prepared to address these challenges.
The Toolkit Population Estimator Tool and Therapy Impact Modeling Tool can help plans and developers estimate the potential impact of a therapy on a plan based on the plan's characteristics
In concept, all payers face the same three challenges in planning and paying for these therapies:
Payment risk: Total cost over a period of time and the misalignment of cost and benefits;
Performance uncertainty: Ability to accurately predict for whom the selected therapy will work, how well and how long; and
Actuarial risk: Uncertainty about how many patients the payer will have taking a certain therapy.
In practice, the challenges will vary by therapy and by payer. For example, from a therapy perspective, payer mix can vary by disease. Medicare payers will likely pay for more oncology cell therapies. Medicaid plans will see a larger share of treatments to address genetic conditions that manifest in childhood. The expected duration of effect of a particular therapy may vary and the performance data available at launch may also vary by therapy, thus creating different levels of uncertainty.
From a plan perspective, size matters. Large plans may see multiple patients with a particular condition treated by gene or cell therapy. Small plans may not see one. Given their size, large plans that can spread their risk across a larger base are expected to be able to handle the cost of durable cell and gene therapies and better predict their actuarial risk. Large payers may also see greater alignment between paying for a treatment and benefiting from reduced costs later. This is because a large payer that invests in treating a patient who then leaves their plan will likely receive other incoming patients whose treatment may have been paid for by another payer.
FoCUS has developed tools to help payers assess the potential impact of these therapies on their populations. These tools may be helpful to developers as well:
The Population Estimator Tool, found in the Individual Indication Worksheet, allows users to adapt FoCUS' national incidence and prevalence estimates for a condition to a specific plan based on population size to suggest the potential number of treatment-eligible patients in that plan. Users will want to further think through the age distribution of particular therapies and unique elements of the plan to refine their assessment of plan-specific impact.
The Therapy Impact Modeling Tool, found in the Individual Indication Worksheet, can help users estimate a plan's per-member-per-month (PMPM) spend associated with durable cell and gene therapy expenditure. The tool also estimates the maximum potential impact, as plans can have challenges with large, unexpected costs. Finally, the estimated cost for one patient is included. Statistically, for therapies with small target populations, a given plan may expect to see no patients on therapy in most years and a PMPM impact that reflects that. However, in the year that that patient does materialize, the plan will have the full cost of the treatment,
Financing Solutions
Key takeaways
Organizations are exploring and implementing a variety of innovative solutions to help address these challenges.
FoCUS has identified potential financing solutions:


Milestone-based contracts (2)
Performance-based annuities
Payment over time/installment payments
Risk Pooling
Reinsurance/Stop Loss
Subscription
Orphan Reinsurer Benefit Manager
Warranty

No one-size fits all – the right solution varies by product type and payer.
Payers' different challenges may lead them to prioritize different solutions, but most payers are interested in paying for what works.
While some of these solutions are being partially tested today, regulatory changes are needed to support broad use.
Implementation of these solutions may require operational reliance on external resources
The NEWDIGS FoCUS consortium (payers, providers, patient advocacy organizations, pharmaceutical developers, academics and others) has been working collaboratively since 2016 to address the need for new, innovative financing and reimbursement models for durable/potentially curative therapies in the US in order to ensure patient access and sustainability for all stakeholders. FoCUS does not address how to value these therapies or set their prices. Payers and other organizations have methodologies to do so. Rather, FoCUS seeks to create precision financing solutions for durable, potentially curative therapies with large, upfront costs whose benefits accrue over time.
FoCUS participants identified over 20 individual financing tools, no single one of which could meet all needs for every stakeholder. The participants then combined the tools in Design Labs into sets, which in combination could address significant financial challenges for the stakeholders.
The critical precision financing dimensions to be addressed were payment timing, performance, and actuarial risk. Each FoCUS precision financing solution identified addressed key challenges associated with cell and gene therapies but no one solution addressed them all. Selection of the financial tools will be based on payers' assessment of the specific therapy and their organizational needs.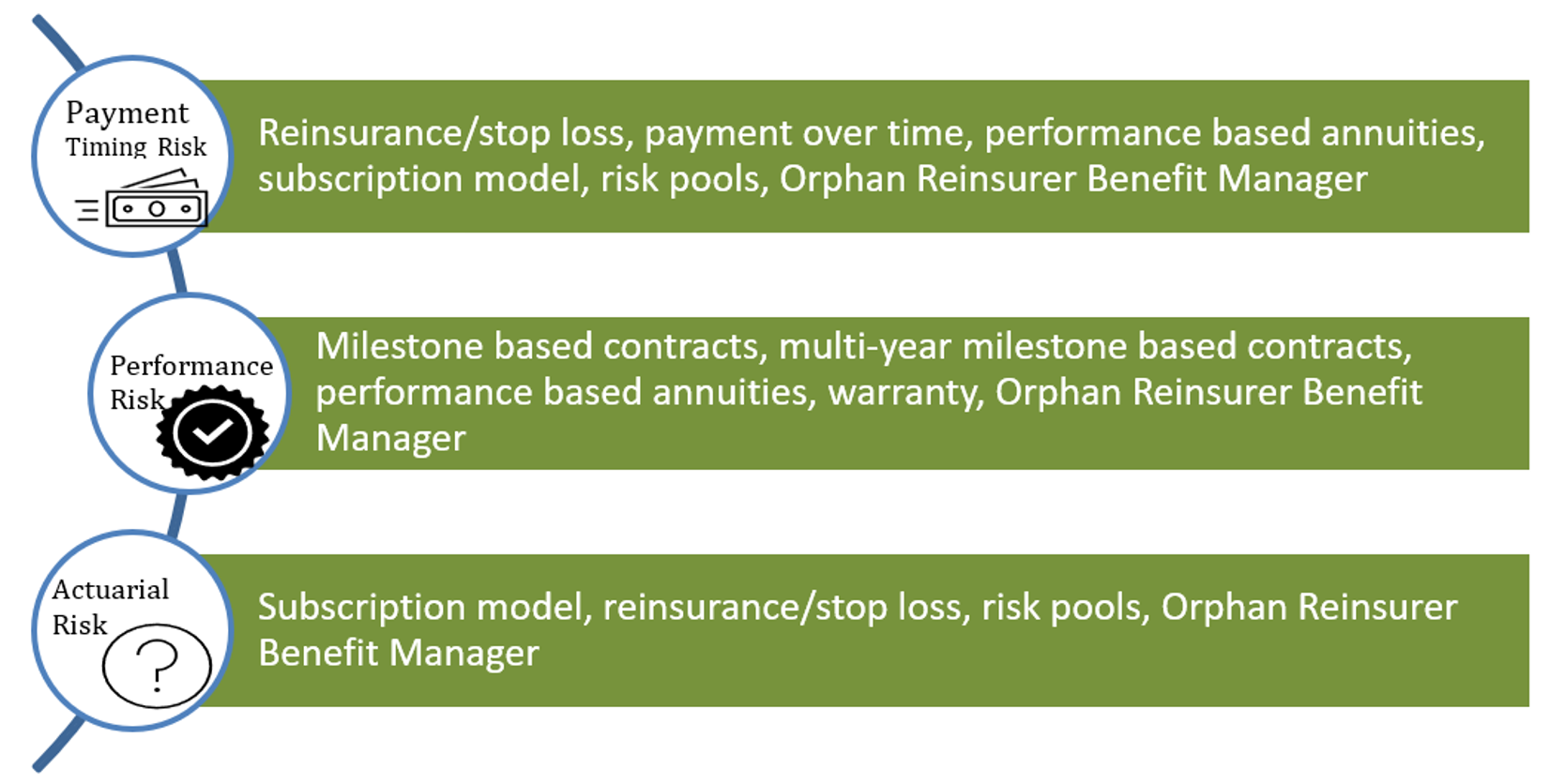 The highest potential precision financing solutions identified by FoCUS participants are listed below.
By clicking on each solution, you can find a concise description of each and links to additional resources.
Milestone-based Contracts Multi-year Milestone-based ContractsPerformance-based AnnuitiesPayment Over Time/Installment FinancingSubscriptionReinsurance/Stop Loss Insurance Risk Pools
Orphan Reinsurer and Benefit Manager (ORBM)Warranty
Five of these solutions prioritize addressing payment timing or performance uncertainty risks. Some of these models, such as the subscription, reinsurance and risk pooling solutions, also help with actuarial uncertainty. The orphan reinsurer benefit manager concept addresses the needs of organizations that do not want to build in house capabilities to manage these risks and can help facilitate the implementation of certain solutions.
The Solution Prioritization Tool, found in the Individual Indication Worksheet, found in the individual indication worksheet, can help identify the best solutions for a particular situation. Based on the experiences of FoCUS members and pilots, the Solution Prioritization Tool asks a short set of questions about the types of risks a plan needs to manage, the plan's characteristics and the types of therapies being evaluated. The Tool then suggests high-potential precision financing solutions based on the experiences of FoCUS pilots. The Tool will also point the reader to other solution design elements to consider in building a full solution for providing patient access to these therapies. This analysis is intended to support a strategic assessment of each therapy and help users quickly benefit from FoCUS insights to date. Users are ultimately responsible for their own assumptions and analysis.
FoCUS' recent payer survey (summary findings above) suggests interest in all these solutions. Health plans appear particularly interested in milestone-based contracts to manage product performance risk by paying for what works. Self-insured employers expect to evaluate their actuarial risk management strategies.
Building a total solution for patient access
Key takeaways
A holistic look at how to ensure patient access to these durable treatments is critical.

Beyond financing solutions, elements such as out-of-state networks and patient financial implications should be considered.
Durable, potentially curative therapies may create changes in how care is delivered and where care is delivered, in addition to reimbursement and payment changes for providers, patients and their caregivers.
A brief summary of key impacts to stakeholder issues identified in the Design Labs that need to be resolved to ensure appropriate access to these therapies may be found here.
A brief overview of other of the key issues for delivering sustainable financing solutions for patient access, as listed below, may be found by clicking on each of the individual topics.
Outcomes tracking over time Patient mobility Provider accreditation / Centers of Excellence Provider financial considerations Out-of-state networks Buy and bill State plan amendments Patient financial implications
Payer considerations roughly fall into two categories – those related to administration and management of a therapy and those related to implementing precision financing solutions.
Key therapy administration and management topics to consider:
Treatment facility requirements
Center of Excellence requirements
Geographic coordination challenges
Provider reimbursement development and contracting
Pre- and post-treatment clinical care requirements
Key financing solution topics to consider:
Actuarial capabilities and risk acceptance
Developer performance based contracts
Identification of performance metrics
Collection of performance data
Patient tracking over time
Patient mobility management
Evaluation of collected data to performance criteria
Collection of any performance based rebates and/or payments
An assessment of the ability to support therapy administration and management requires a unique organizational evaluation. Insights on an organization's requirements to implement various financial solitons are provided in The Solution Prioritization Tool found within the Individual Indication Worksheet.
It may not be efficient for all payer organizations to build capabilities internally to serve patients treated with durable therapies or to establish their own contracts with treating providers and developers. Market solutions are emerging to efficiently address the required capabilities. A white paper based on a survey of currently known market solution providers was published in June 2021 and can be found here.
Multiple products commercially available to support durable gene and cell therapy access are categorized below. In the instances of payers unable to support financial solutions without external resources, Developers may wish to consider contract terms that support efficient execution of finance solutions with developing suppliers.
Category

Characteristics of the products

Payer reinsurance/stop-loss/
risk carve out solutions

Carve out of financial responsibility or risk for specified cell and/or gene therapies, or other specified high-cost therapies.
May or may not have financial attachment points; carve out is specific to the covered therapy and not total patient medical and drug costs
Do not offer performance guarantees, but assume all actuarial/financial risk

Contract negotiation and data management services for payers and pharmaceutical companies

Act as third parties to negotiate contracts for cell and gene therapies
Provide data/outcomes tracking services
Contracts may include performance guarantees, but the service company themselves do not assume financial risk

Provider contract negotiation services

Oriented towards providers and patient care pathways
Multiple services offered, including COE network creation and contracting, data analytics and cost containment
Performance guarantees are oriented towards clinical services and outcomes rather than financial guarantees

Financial and pharmaceutical company warranty services

Include payment plans, with or without performance guarantees, and warranties for purchase by pharmaceutical companies that can provide protection to payers for suboptimal product performance
Addressing Barriers to Adoption
Key takeaways
Regulatory issues must be addressed at the structural systems level.
A variety of solutions to these issues have been proposed.
Preparing systems for application of the new Medicaid Best Price regulations to support value-based payments is the most urgent need.
Each of the precision financing solutions identified as part of the FoCUS workgroup must take into account current governmental regulations. Various implementation challenges exist given how government pricing and other regulations are currently written. Historical legislation and regulation are not always amended to permit innovative contracting approaches.
FoCUS has identified six key federal policy issue and policy recommendations, in priority order below.

The most critical issue to address is how Medicaid Best Price is calculated.
| | | | | | |
| --- | --- | --- | --- | --- | --- |
| Enabling Change | Milestone-based Contract | Multi-year Milestone-based Contract | Performance-based Annuity | Payment over Time/installment Financing | Warranty |
| Regulatory | | | | | |
| Revised Medicaid Best Price Benchmarking | ✓✓✓ | ✓✓✓ | ✓✓✓ | ✓✓✓ | ✓✓✓ |
| Anti-Kickback Statute safe harbor inclusion | ✓✓✓ | ✓✓✓ | ✓✓✓ | ✓✓✓ | ✓✓✓ |
| FDA Manufacturer communication Guidelines for early discussion & using outcome metrics not in label | ✓ | ✓ | ✓ | ✓ | ✓ |
| HIPAA revisions to ease patient outcomes and insurer status collection & sharing | ✓ | ✓✓ | ✓✓ | ✓ | ✓✓ |
| Operational | | | | | |
| Outcomes and insurer status data collection | ✓ | ✓✓ | ✓✓ | ✓ | ✓✓✓ |
| Provider reimbursement mechanisms | ✓✓ | ✓✓ | ✓✓ | ✓✓ | |
| Risk Management | | | | | |
| Center of Excellence | ✓✓ | ✓✓ | ✓✓ | ✓ | |
| Patient mobility mechanisms | ✓ | ✓✓✓ | ✓✓✓ | ✓ | ✓✓ |
| Reinsurance/Stop-loss evolution | ✓ | ✓✓ | ✓✓ | ✓✓ | ✓✓✓ |
Each of the six key federal policy issue and policy recommendations is briefly described and recommendations for solutions are highlighted here. A 2-page summary of these recommendations may be found here.
Additional reading material may be found in the Toolkit Bibliography.